JPMorgan's Frenkel Says Any Delay to Fed Hikes Would Be Harmful
By and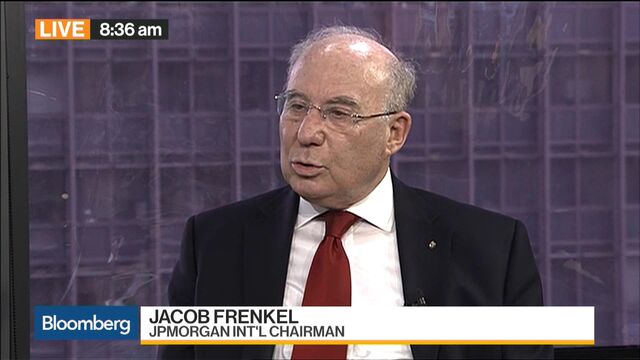 The Federal Reserve should keep raising rates before its inflation goal materializes and not doing so could be harmful, according to JPMorgan Chase International Chairman Jacob Frenkel.
"If you look at price pressure, yes, we are still below 2 percent, but the fact is if we wait for 2 percent to happen, we will have missed the boat because this is the trend, this is the direction," Frenkel said on Friday in a Bloomberg TV interview with Kathleen Hays in Tokyo. The strength of the U.S. economy justifies further rate increases, he said, and "it's not costless to delay a rate hike. We have implications for financial markets."
Most central banks over the past few years have adjusted their mandate to incorporate financial stability, and policy makers should recognize the risks that prolonged ultra-low rate policy can bring to growth, Frenkel said.
"You potentially may endanger the financial stability," he said. "I'm not saying that has happened, but I'm saying it will be very useful to have an explicit look at it and therefore restore the balance of the discussion on hiking rates, I would not call it hiking rates, I would call it normalization."
Earlier this month, Federal Reserve officials signaled that recent economic weakness wouldn't change their outlook for raising rates two more times this year. The jobless rate has fallen to a level officials see as consistent with their maximum-employment mandate, and inflation is near the central bank's 2 percent goal, even if price gains slowed in March.
— With assistance by Kathleen Hays
Before it's here, it's on the Bloomberg Terminal.
LEARN MORE