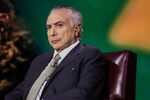 One year ago, Brazil's Vice President Michel Temer — a veteran political operative  — took the country's helm after Dilma Rousseff's impeachment, promising to rein in public spending and return the economy to expansion.

While he has taken steps to control the government's outlays, growth remains elusive. Investors are pretty happy with his tenure, but Brazilians are somewhat less so, with opinion polls showing his approval rating hovering around the 10 percent mark. 





Still, no one's complaining about the drop in inflation. Running at nearly 10 percent when he took office, it has now fallen below the central bank's target of 4.5 percent per annum.

It is questionable, however, whether this is more the result of government policy or an economy that's fallen off a cliff, shrinking close to 8 percent in the past two years as a commodity super-cycle ended and credit-driven boom by households and the government retrenched.





Low inflation is where the good news stops for most Brazilians. Since the start of 2015, Latin America's largest economy has shed around 3 million jobs. Under Temer, the rise of the unemployment rate accelerated, jumping to a record high of 13.7 percent in March from 11.2 percent.





Unsurprisingly, the rise in unemployment has been bad news for the retail sector. Though surveys suggest Brazilians are starting to feel a bit more confident about the economy, many are using any surplus cash to pay off debt rather than splurge at the shops.

For investors, however, life is sweet. Five-year credit default swaps have fallen significantly since Temer took office. Likewise the stock market and the currency have rallied over the past year on expectations that the government will put its house in order. The Ibovespa stock index is up 28 percent over the past year in local currency terms.
Last year, the Temer administration tweaked the Constitution to cap public spending for up to 20 years. In 2017, they are trying to secure congressional approval for a bill to overhaul Brazil's costly pension system, a reform essential for the country's long-term fiscal stability.

But the government is facing severe resistance and if it fails, expect investor enthusiasm will dwindle too, following the path of Temer's popularity ratings.
Before it's here, it's on the Bloomberg Terminal.
LEARN MORE