Europe Stocks Rise as Traders Assess Growth Post French Election
By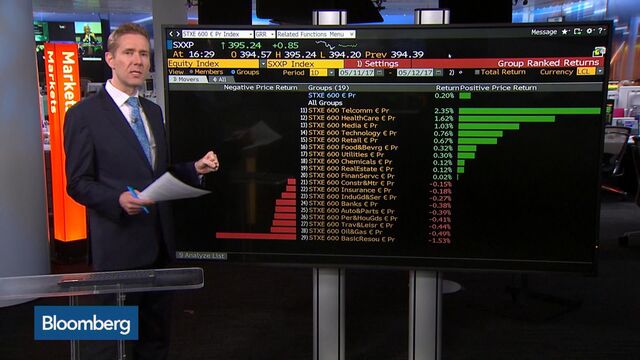 European stocks advanced after their biggest drop since mid-April, as investors searched for fresh triggers for further gains after political risks in France diminished following the victory of Emmanuel Macron.
The Stoxx Europe 600 Index rose 0.3 percent at the close, capping a third consecutive weekly advance. The benchmark had climbed to a 21-month high before sliding 0.5 percent on Thursday after Governor Mark Carney said the Bank of England hadn't modeled for a disorderly Brexit process.

"It seems that while political risk has subsided, investors remain far from convinced that further upside can be sustained without further evidence of a positive pickup in the economic numbers," Michael Hewson, chief market analyst at CMC Markets in London, wrote in a note.
AstraZeneca Plc helped push health-care shares to the be the second-best performer among Stoxx 600 industry groups. The stock climbed 9 percent after the company said its lung-cancer drug significantly reduced the risk of the disease worsening or death in patients.
Mining shares slid 1.4 percent, halting a three-day rebound. The industry group is down about 13 percent from a February peak.
— With assistance by Elena Popina
Quotes from this Article
Before it's here, it's on the Bloomberg Terminal.
LEARN MORE