Corbyn's Britain: Investors' Guide to Labour's Plan for Industry
By , , and
Blueprint seen as biggest U.K. state intervention in decades

43-page leaked document praised by leader Jeremy Corbyn allies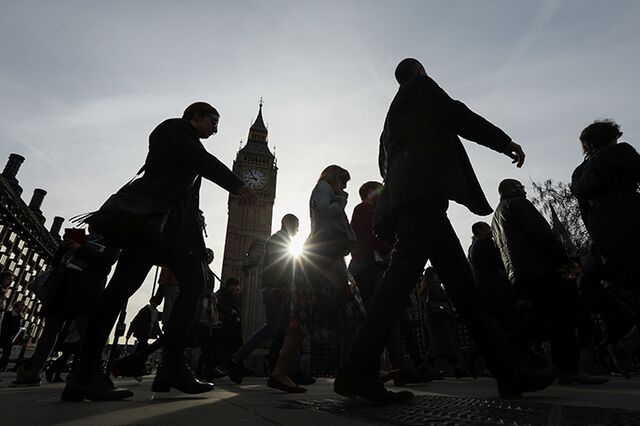 With the U.K. general election less than a month away, parties are putting the final touches on their manifestos. But in an unexpected twist, a 43-page draft of the main opposition Labour Party's plan was leaked.
Embraced by many activists, including some of leader Jeremy Corbyn's closest allies, it's also been described by the Institute for Fiscal Studies as the biggest state intervention in the economy for decades. Here is a rundown of the measures that will have the most impact on markets and business.
1. Taxes
What it says: An income tax increase for the top 5 percent of earners -- those with an income of more than 80,000 pounds ($103,000) -- to inject a further 6 billion pounds a year into the National Health Service. Corporations would also pay "a little more:" 26 percent by 2020, up from 19 percent now.
What it means: Raising the top rate of income tax risks "diminishing the U.K.'s appeal," according to Nina Skero, at the Centre for Economics and Business Research, while lobbyists warned the tax on health insurance would flood the NHS with more patients. Increasing corporation tax is a popular measure with the public. The policy "could raise around 19 billion pounds in the near term, but substantially less in the medium to long run because companies would respond by investing less in the U.K.," the Institute for Fiscal Studies said.

2. Energy
What it says: An "emergency price cap" for consumers and steps toward renationalizing energy companies, without going so far as buying all of the so-called "Big Six" that includes Centrica Plc and RWE AG. Change licensing rules to allow government to take control of how local and national energy grids are run. Keep nuclear, which means progressing with Electricite de France SA's reactors at Hinkley Point, and ban fracking.

What it means: "Adding more energy companies into the market may only have a marginal effect on average bills," said Jonas Rooze, an analyst for Bloomberg New Energy Finance. "There's already a huge number of alternatives to the Big Six, the real challenge is getting people to switch to them." Fracking ban will please rural voters, but cause a rift with trade unions.
3. Takeovers
What it says: Change the takeover code to require a clear plan to protect workers and pensioners. With the collapse of the retail chain BHS still fresh in the public's minds, "workers shouldn't suffer when a company is sold," the draft says. Businesses identified as "systemically important" would be protected from hostile takeovers.
What it means: The plans "will be popular with voters who feel politicians have done too little to resist the tide of globalization and protect jobs," according to Professor Patrick Diamond at Queen Mary University of London. But potential foreign buyers, beckoned by a weaker pound, would risk being blocked. Thomas Seidl, an analyst at Bernstein, warned it would be negative for U.K. equities, and would "strip out any remaining M&A premium on the stocks."
4. Industrial Strategy
What it says: Repeal the 2016 Trade Union Act, which increased the threshold for a strike ballot to be considered valid, and roll out sector collective bargaining, to allow groups of employees to negotiate with employers. Set a maximum pay ratio for the public sector, meaning the highest paid person can only make 20 times more than the lowest paid in a company bidding for government contracts.
What it means: Companies such as BT Group Plc, Centrica and Mitie Group Plc could all be affected. BT Chief Executive Officer Gavin Patterson already saw his pay package slashed by 4 million pounds over an accounting scandal. Under these proposals his maximum pay could drop to 400,000 pounds.
5. Nationalization
What it says: Reverse the Conservative government's "historic mistake" of privatizing Royal Mail and bring railways back into public ownership as franchises expire.
What it means: "Railway nationalizations have been floated before," said Steven Fielding, professor of politics at Nottingham University. "These are little nationalizations which have some public support. It's not mad, it's just enough to look almost credible." This is a policy that goes down well with voters, particularly commuters into London affected by strikes over the past year.
6. Public Spending
What it says: Abolish university tuition fees and "begin the biggest council building program for at least 30 years" while introducing controls on rent rises to "end insecurity for private renters." All of this while eliminating the current budget deficit within five years.
What it means: The pledge to get rid of university tuition payments was a winning gambit for the Liberal Democrats in 2010, but their failure to deliver may make voters more skeptical this time around. It is also expensive; the IFS estimates bringing back maintenance grants and abolishing tuition fees would increase the deficit by about 12.7 billion pounds.
"Tuition fees alone cost 11 billion pounds," said Wyn Grant, professor of politics at Warwick University. "It just doesn't add up. Even the tax increases on the wealthy and corporations can't cover anywhere near this sum."
— With assistance by John Ainger
Before it's here, it's on the Bloomberg Terminal.
LEARN MORE