Loans Championed Under China's Belt-Road Project Rise 50% in Two Years
By
Lending outside the nation climbed since Xi unveiled plan

China expands along the Silk Road to support local projects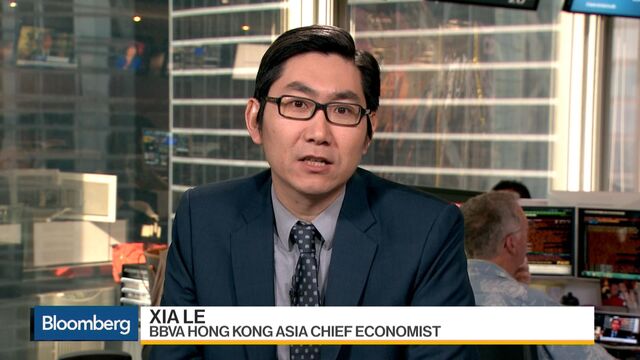 China is pouring money into its Belt and Road initiative, a push for global influence championed by President Xi Jinping.
In addition to using its three so-called policy banks -- the China Development Bank Corp., Export-Import Bank of China and Agricultural Development Bank of China -- China has set up a state-financed $40 billion Silk Road Fund and championed a new, Beijing-based multilateral lender, the Asian Infrastructure Investment Bank, to stoke development across Eurasia. Those groups were involved in $39 billion of lending outside the country last year, up about 50 percent from 2014, according to data compiled by Bloomberg.
It's all designed to deepen economic ties with Asian, European and African countries along old Silk Road routes, an initiative Xi unveiled in 2013 that's part of a broader plan to boost his nation's standing in the global community after a century of "humiliation." On Sunday, Xi will host leaders and dignitaries from 110 participant countries at a summit in Beijing to discuss the grand plan.

China's big commercial lenders are also driving the momentum. Bank of China priced a multi-currency bond last month as part of its plan to provide $100 billion worth of credit facilities for the project by the end of this year. It last sold such a debt in June 2015.
While bulk of the lending may go to global financial or commodity trading centers, some nations located along the project link have benefited from China's loan diplomacy.

The Hassyan clean coal project in the United Arab Emirates received two loans worth $2.3 billion, a gas transporter based in Azerbaijan secured $600 million and Pakistan won $400 million. Other debtor countries include Oman, Indonesia, Bangladesh, India and Tajikistan.

Thomas Hugger, chief executive officer and founder of Asia Frontier Capital Ltd., expects Pakistan to gain "significantly" from the initiative, thanks to the China–Pakistan Economic Corridor, which has lured $46 billion in investment commitments from China. "Besides Pakistan, the Central Asian economies especially Kazakhstan should benefit. Iran, Sri Lanka, Bangladesh and Myanmar can also benefit."
— With assistance by Mike Szeto
Quotes from this Article
Before it's here, it's on the Bloomberg Terminal.
LEARN MORE