The Bundesbank Just Made It Harder to Move to Frankfurt After Brexit
By and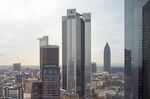 Follow @Brexit for all the latest news, and sign up to our daily Brexit Bulletin newsletter.
Germany's Bundesbank has just made life harder for the banks that are considering Frankfurt as their new European Union base after Brexit.
The central bank confirmed this week that it has agreed to lease an additional 7,000 square meters (75,000 square feet) of space in the city's Trianon tower. In the process, it snapped up one of the few large premises left in Frankfurt's financial district, whose high-rise skyline has earned it the nickname Mainhattan.
Frankfurt's overall office vacancy rate of about 9 percent is higher than most other major German cities. However, the business area lacks modern, high-quality blocks of space that would appeal to international lenders that decide to beef up their presence in the country, according to a survey by property broker Savills Plc.
"Several big international banks are currently looking for office space in Frankfurt, not least because of Brexit -- in some cases they're looking for more than 10,000 square meters," said Benjamin Remy, head of Savills' office agency in the city. "On closer inspection, it turns out that there aren't that many suitable properties available."

Britain's decision to leave the EU has encouraged banks to look for alternative European hubs to London to secure continued access to the bloc. Goldman Sachs Group Inc. and Citigroup Inc. are considering choosing Frankfurt as their EU base, people with knowledge of the situation said in January.
In its report, Savills said there are just six prime office buildings in central Frankfurt with more than 10,000 square meters available to rent. Three more properties have between 5,000 and 10,000 square meters on offer. More than 60,000 square meters in three separate buildings will be added next year.
"Given that it's rather unlikely that two large banks will move into the same building, and the time-frame currently under discussion, the choices are limited," Remy said.
Frankfurt is the cheapest major financial center in the 28-nation EU to live and work, Savills estimates. The combined annual cost of renting an apartment and the per-employee office space expense amounted to just under 30,000 euros ($33,000) in the German city, about 65 percent less than London.
Quotes from this Article
Before it's here, it's on the Bloomberg Terminal.
LEARN MORE