Brexit Bulletin: Carney Can't Win
by
Sterling fell after Bank of England governor gave U.K. outlook

Prospects of orderly Brexit disputed by analysts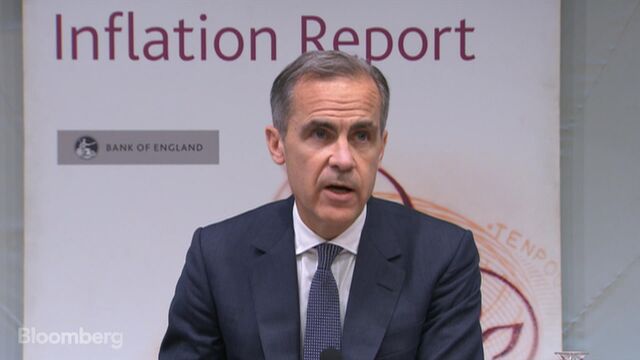 Sign up to receive the Brexit Bulletin in your inbox, and follow @Brexit on Twitter.
Investors are at odds with Bank of England Governor Mark Carney's outlook for Brexit.
The pound fell the most in a month on Thursday after the central bank voted to keep interest rates unchanged, an outcome that disappointed those who thought a second policy maker would join Kristin Forbes in calling for higher rates.

Sterling then extended its losses as Carney said tighter monetary policy would depend on the "smooth" Brexit that his institution is predicting. That was a signal that investors don't share his optimism for the U.K.'s withdrawal, and thus the path for rates.
"The BOE are basing their forecasts on a smooth Brexit process," said John Wraith, head of U.K. macro rates and strategy at UBS. "If that happens, their optimistic view on growth might prove accurate and they will indeed need to tighten faster than the curve implies. The problem here is we don't think at all that Brexit will be so smooth."
According to BOE assumptions, Britain will avoid the so-called "cliff edge," in which it leaves the EU without a trade deal or transitional period. That's partly based on government projections and policy: Prime Minister Theresa May is adamant she can seal the divorce and line up a new trade deal by the time Britain leaves in 2019.
To be fair, Carney just can't win. This time last year he was being pilloried by those who were campaigning for Brexit after warning the economy would be hurt by a vote for it.

Populism is Popular
Theresa May and opposition Labour Party leader Jeremy Corbyn are serving up different forms of populism ahead of the June 8 election. Both say they are committed to (different forms of) Brexit, and are also hitting the brakes on four decades in which governments trusted competition and deregulation to deliver better lives for voters.
As Robert Hutton and Alex Morales report, the two main parties are competing for the vote of the average struggling Briton, rolling out similar-sounding proposals to cap energy bills, stop employers bringing in cheap foreign workers, and prevent asset-stripping corporate takeovers. 
"Too many people are in insecure and low-paid work and cannot make ends meet," reads the leaked draft of Labour's manifesto, dismissed by Tory-supporting newspapers as a return to the 1970s. Yet May made the same point on becoming prime minister: "If you're from an ordinary working-class family, life is much harder than many people in Westminster realize."
May said on Thursday night she has no plans to increase taxes and Corbyn said he wouldn't kowtow to U.S. President Donald Trump.
Continental Warnings
A little-known EU lawmaker with a big Brexit role is telling the U.K. to get its head out of the sand. Danuta Huebner, head of the European Parliament's constitutional affairs committee, said the British are underestimating upcoming talks.
"There is a creation of expectations that might not be fulfilled," she told Bloomberg's Jonathan Stearns and Ian Wishart. "These are going to be extremely difficult negotiations."
Her panel is important because it will recommend whether the whole assembly should endorse any deal. The Parliament should oppose the start of talks on a trade arrangement with the U.K. if it's not satisfied citizens' future rights are protected, the legislature's negotiator Guy Verhofstadt said on Thursday.
Separately, members of the so-called Visegrad Group – an alliance of four eastern European nations – warned that fellow EU members should view Brexit as a symptom of the bloc's problems.
"The Brexit referendum was not the cause but rather the result of problems within the European Union," Szabolcs Takacs, Hungary's minister of state for EU affairs, said at a Chatham House event in London. "This is what we can't ignore."
On the Markets
SoftBank Group is leading a £390 million ($502 million) investment in Improbable World, a London-based virtual reality startup, in one of the U.K's largest venture capital deals.
The stocks of British companies that rely on spending by tourists may enjoy a lift in 2017, according to UBS's wealth-management unit. The decline in the pound will allow them to outperform those reliant on domestic consumers, who are being squeezed by higher inflation and limited wage gains, said Caroline Simmons, deputy head of the unit's U.K. investment office.

Brexit Bullets
Brexit Secretary David Davis tells the Telegraph that European Commission President Jean-Claude Juncker is trying to get him fired
EU members are debating changes to the bloc's Brexit negotiating directives, with a new draft set to be circulated on Monday, two officials say
Former PM Gordon Brown made a plea for voters to elect Labour Party "champions" in the election to fight for manufacturers' interests after Brexit. His successor, David Cameron, urged voters to elect a large majority for May's Conservative Party to help avoid an "extreme" Brexit
"No-one knows what they're doing" on Brexit, says Nobel laureate economist Christopher Pissarides. "You throw things at the other side, the other side throws things at you."
EU chief negotiator Michel Barnier flew Ryanair to Dublin to say that the EU will work to avoid a hard border between the two Irelands.
And Finally…
Germany's Bundesbank has leased 7,000 square meters (75,000 square feet) in one of the few large premises left in Frankfurt's financial district. That makes life harder for banks considering Frankfurt as their new EU base.
Frankfurt's overall office vacancy rate is higher than most other major German cities, but the business area lacks modern, high-quality space, a Savills survey says.
"Several big international banks are currently looking for office space in Frankfurt, not least because of Brexit," said Benjamin Remy, head of Savills in the city. "On closer inspection, it turns out that there aren't that many suitable properties available."
For more on Brexit follow Bloomberg on Twitter, Facebook and Instagram, and see our full coverage at Bloomberg.com
Before it's here, it's on the Bloomberg Terminal.
LEARN MORE