Ontario Snubs Bombardier on Heels of Fracas With Key Investors
By
Transit agency places light-rail order with French rival

'Alstom's light-rail vehicles work,' says agency official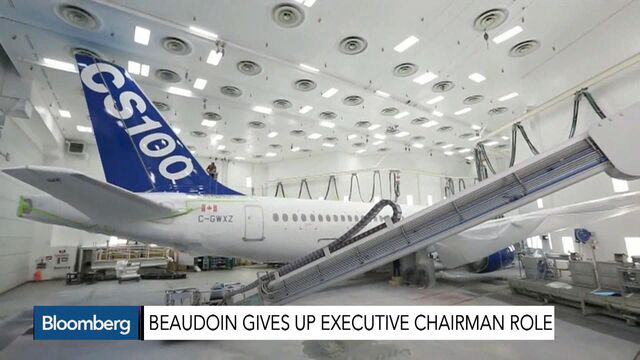 One of Bombardier Inc.'s biggest domestic customers spurned it for a French rival, adding to the Canadian company's woes days after it was assailed by major investors.
Ontario's transit agency placed a firm order with Alstom SA for 61 light-rail cars valued at 355 million euros ($388 million) for the Greater Toronto area, the French company said in a statement Friday. Alstom also builds cars for a light-rail line in Ottawa, the national capital.
"We know for sure that Alstom's light-rail vehicles work," John Jensen, chief executive officer of the Ontario agency, said in a separate statement. The order is an effort to ensure that a planned transit line can open on time in four years, he said.
The deal adds to pressure on Montreal-based Bombardier, capping a week in which at least five institutional investors voted against the re-election of Executive Chairman Pierre Beaudoin. They also criticized the company's governance after it raised executive compensation despite planning job cuts and relying on taxpayer support for a $6 billion jetliner program. 
The Ontario agency and Bombardier are fighting over the late delivery of light-rail cars for Toronto. Metrolinx, as the agency is known, awarded Bombardier a contract valued at C$770 million ($560 million) almost seven years ago, with deliveries originally scheduled to take place from 2013 to 2020.
"We are going through a dispute resolution process with Bombardier, but that could take 8-12 months, and we can't wait that long to determine whether Bombardier will be able to deliver," Jensen said.
On Time
Bombardier said it can produce the cars for Toronto on time. "These vehicles can be ready ahead of schedule and well before a single track has even been laid on the Eglinton Crosstown," the company said by email.
The widely traded B shares fell 0.9 percent to C$2.19 at 12:13 p.m. in Toronto. The stock still is poised for a hefty weekly gain after Bombardier's first-quarter results were well-received by investors, pushing shares to the biggest advance in four months on Thursday.
Metrolinx plans to open the 19-kilometer (12-mile) Eglinton Crosstown route in 2021. An effort by the agency to cancel the Bombardier deal was blocked by the Ontario Superior Court of Justice last month.
If Bombardier is able to deliver vehicles on time, Metrolinx could use the Alstom cars for other projects, Transportation Minister Steven Del Duca said in a separate statement. If Bombardier is found in default, Alstom's vehicles would be used on the Eglinton Crosstown and an additional order would be placed with Alstom for Hurontario, a planned 20-kilometer line.
"The stakes are too high to sit idly by without a viable alternative," Del Duca said.
Before it's here, it's on the Bloomberg Terminal.
LEARN MORE