Balance of Power: Trump Fans Russia Scandal Again as Stakes Rise
Craig Gordon, Michael Winfrey and John Fraher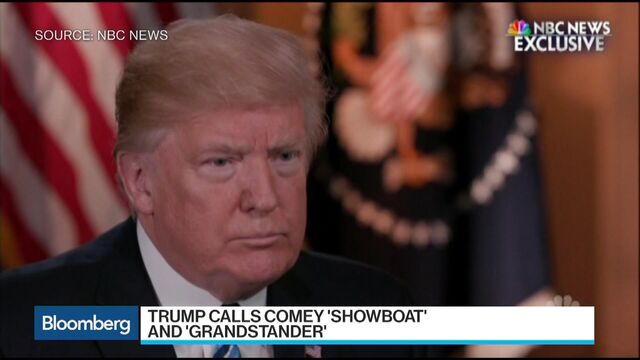 Sign up to receive the Balance of Power newsletter in your inbox, and follow Bloomberg Politics on Twitter and Facebook or more.
Donald Trump may have hoped he could make the Russia story go away by firing the FBI director.
Instead, it's bigger than ever. Because the president did the one thing that would make everyone pay attention: make the story about Donald Trump.
Until now, the Russia probes centered on long-departed or lesser lights, like Carter Page and Paul Manafort. The stories could be hard to follow, replete with Cypriot money transfers and meetings involving men with names like Kislyak. Now the questions are as familiar as the name Nixon: Abuse of power? Executive overreach? Boiling rage in the Oval Office?
In other words, questions about Trump.
Trump still could largely recover with an impeccable choice to replace Comey, the way he tapped H.R. McMaster to right the ship after firing Michael Flynn. A competent but faceless careerist also turns down the temperature. Catastrophic would be picking a loyalist, with the not-so-subtle message to nix the probe.
Republicans in Congress tell Bloomberg they're watching closely. If Trump gets it wrong, the Comey decision could dog him for months, if not years, and set his presidency adrift.

Global Headlines
FBI fights back | The acting head of the FBI, Andrew McCabe, didn't shy away from praising Comey in Senate testimony -- even in the face of Trump's persistent criticism of the ex-FBI director. McCabe called working with Comey "the greatest privilege and honor of my professional life" and disputed White House claims that Comey had lost the faith of rank and-file agents. Possible Comey replacements include ex-Michigan congressman Mike Rogers, a former FBI agent, former New York City police commissioner Ray Kelly, and Trey Gowdy, the House member who led the chamber's Benghazi investigation.
Trump feels safe - but what about the others? | Trump seemed to acknowledge the Russia probe might touch people once close to him. While he took pains to point out in an interview yesterday that Comey assured him three times he's not in trouble, he offered no such assurance regarding others in his campaign. "I know that I'm not under investigation. Me. Personally," Trump told NBC's Lester Holt. "I'm not talking about campaigns. I'm not talking about anything else."
Merkel has all the momentum | A regional vote on Sunday in Germany's industrial heartland is a dress rehearsal for September's federal election. North Rhine-Westphalia is both a key state, with an economy almost the size of the Netherlands, and the last chance for Angela Merkel's challenger, Martin Schulz, to show he's capable of turning the tide in his favor. After two successive state wins, polls suggest the momentum is with Merkel.

Trump's first trade deal with China | The Trump administration touted a range of trade agreements with China -- ranging from beef to natural gas -- as a breakthrough to resolving disputes between the world's two largest economies. China called the talks "win-win." Analysts were less impressed, saying the provisions largely built on existing deals and don't represent a huge shift in trade relations between both countries.
Saudi cash to strengthen Trump ties | The kingdom is preparing to bolster ties with Trump with a $40 billion investment by its sovereign wealth fund in U.S. infrastructure, Bloomberg exclusively reports. The announcement could come as soon as this month when Trump visits the country. The Saudis are eager to reset relations with the U.S. after feeling shunned by President Barack Obama, who crafted the 2015 nuclear deal with their Shiite rival Iran.
Populism goes mainstream in Britain | Conservative Prime Minister Theresa May and her Labour Party opponent, Jeremy Corbyn, are trying to one-up each other when it comes to who really speaks for the Average Brit before the June 8 election. Both sides want to put caps on energy bills, prevent foreigners from buying flagship U.K. assets and regularly attack the wealthy "elite." As Rob Hutton points out, free-market capitalism is going to feel a bit less free-market by the time this election is over.
And finally... Emmanuel Macron will be just 39 when he's sworn in as president on Sunday, making him France's youngest head of state since Napoleon Bonaparte. But he has another claim to fame. Macron will be the only Group of Seven leader who is actually younger than the median age of his populace (in this case, 40 years.) The biggest age gap can be seen in the U.S., where the 70-year-old Trump is 32 years older than that median American.

Before it's here, it's on the Bloomberg Terminal.
LEARN MORE