Your Evening Briefing
Here are today's top stories
Bloomberg News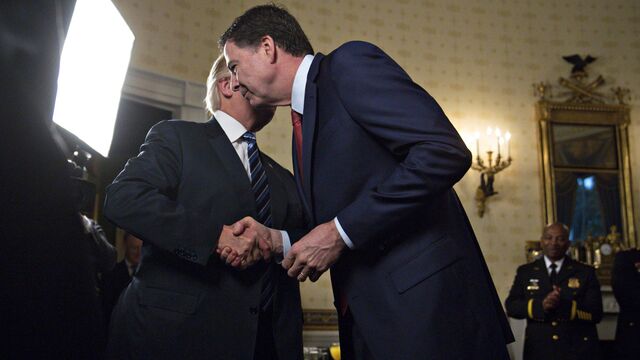 Want to receive this post in your inbox every afternoon? Sign up here.
"He's a showboat, he's a grandstander, the FBI has been in turmoil."
President Trump didn't mince words when discussing former FBI Director James Comey. Trump says he had already decided to fire Comey regardless of a recommendation from the Justice Department. Which contradicts the White House's position in the wake of the firing. The war of words continued with Comey's temporary replacement, Andrew McCabe, who disputed assertions from Trump that the FBI's rank and file had lost confidence in their chief. While the circumstances around Comey's firing seem murky at the moment, the dismissal follows a clear pattern of how Trump investigators are fired by Trump.—Katie Robertson

What an immigrant murder in Kansas says about America. The Midwestern city of Olathe became a global magnet for tech talent thanks to plentiful jobs, cheap housing, and good schools. Then a local opened fire on a pair of Indian-born engineers, injuring one and killing the other. The shooting was one in a string of recent attacks against Indians in the U.S., which, paired with Trump's rhetoric on immigration and crackdown on H1-B visas, has caused many to question their prospects in a time of escalating nativism.
The Fed's plan for gradual rate increases is starting to look complacent, and there is a strengthening case for a faster pace of hikes. The central bank's outlook could abruptly shift if global growth gains momentum and U.S. unemployment sinks much lower.
Hedge funds are facing a U.S. criminal probe over bond valuations. Prosecutors are investigating one of Wall Street's darkest markets, focusing on hedge funds suspected of inflating the value of debt securities in their portfolios to juice the fees they collect.
Student loans just got more expensive. The U.S. government is raising prices for new student debt, adding hundreds of dollars to the cost of the typical federal college loan. For undergraduates, it could amount to nearly a 20 percent increase in interest charges.
The crop that ate America. Corn has always been a mainstay of U.S. agriculture, but its increasing profitability has driven up corn's share of total production, while grains such as wheat and oats have steadily fallen. This has locked farmers to the rises and falls of one crop, as both domestic and export markets grow more and more tied to the dominant U.S. grain.
The heroin business is booming in America. As states and doctors make it tougher to get prescription painkillers, many addicts are turning to street drugs for their fix. With persistent demand and increasingly wide profit margins, 2017 is shaping up to be the most profitable year ever for drug cartels peddling heroin.
Everything you need to know about gravel bikes, the latest trend in cycling. The bike industry has a long history of hyping new niche machines, and gravel bikes are the latest example. The enthusiasm for the new models comes from a swelling interest in gravel ride events themselves. Bloomberg's Josh Petri tests a bike that's not designed for the mountain or the road, but can handle almost anything.
Before it's here, it's on the Bloomberg Terminal.
LEARN MORE