Your Evening Briefing
Bloomberg News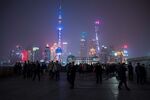 The evening briefing will soon be available in your inbox every day. To be among the first to get it, sign up here.

China's biggest foreign acquisition frenzy is ending almost as dramatically as it began, and that likely will have global repercussions. After a record $246 billion of announced takeovers in 2016, Chinese dealmakers are now struggling to cope with tighter capital controls and more wary counterparties. The plunge in cross-border deals should help stem capital flight and stabilize China's battered currency. But it also could undermine a big pillar of support for corporate valuations around the world. —Brent O'Brien
Hong Kong is the world's top market for $100 million homes. The city has overtaken London as the world's top market for luxury homes, with New York in third place. While the very top of the real-estate market is thriving, sales of more modestly priced properties are slowing. Sales of homes costing at least $1 million increased by 1 percent worldwide last year.
Bad weather and ugly beaches aren't putting Australians off moving to Melbourne. Yes, its weather can be depressing and beaches comparatively uninviting, but the city is growing at the fastest pace in Australia, and employment is booming. It has refashioned its city center, and dirty lanes have been turned into clusters of cool cafes and hip bars. At least you still have Bondi, right Sydney?
How China is luring countries to its 'Belt and Road Initiative.' Chinese President Xi Jinping's plan to revive an ancient trade route connecting the Middle Kingdom, Central Asia and Europe has morphed into a sweeping campaign to boost worldwide trade and economic growth. Here's how Xi plans to convince a skeptical world that globalization has a new champion.
This high school dropout became a billionaire. In a country dominated by family-run conglomerates, Bang Jun-hyuk came from humble beginnings to turn Netmarble Games into a giant. The 48-year-old has been compared to Steve Jobs for the way he returned to the company and ignited growth after years away resulted in losses. And his worth after the company IPO? A cool $2.9 billion.
What could kill the emerging market rally? A drop in oil prices and China's crackdown on leverage are setting the stage for a correction in developing-country assets, according to a growing chorus of investors and analysts. For now, the bulls remain firmly in charge, but there may be some considerable downside ahead.
There's a hateful side to online gaming. Spend enough time hunting terrorists or wandering dystopian wastelands online, and you're bound to come across players hurling xenophobic and racist taunts in ways they'd never do offline. As online gaming moves into the realms of professional sports, scrutiny is starting to increase. But policing toxic attitudes is giving companies such as Sony a headache.
Japan's adding a bit of kick to its tea in an effort to attract a new generation of drinkers. Modern tea masters are upending centuries of tradition with new twists,which include adding flavoring and even alcohol. Get ready to nurse that tea hangover.

Before it's here, it's on the Bloomberg Terminal.
LEARN MORE