Merkel Says Bigger Role for Euro-Area Backstop Worth Pursuing
by
Expands on helping Macron bring down French unemployment

Signals backing for Schaeuble on European monetary fund idea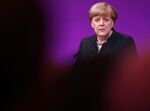 German Chancellor Angela Merkel signaled support for strengthening the euro area's financial backstop and expanded on how she might help President-elect Emmanuel Macron combat French unemployment.
"I'll talk with Macron about how we can strengthen the euro zone and how we can carry out reforms that have a quick impact on the labor market, as we've seen in Germany in the past," Merkel said on a panel in Dusseldorf on Thursday. "I'd like to develop concepts with Emmanuel Macron that quickly restore hope to people who are out of work."
The chancellor also publicly took up a proposal by her finance minister, Wolfgang Schaeuble, to give the European Stability Mechanism rescue fund greater powers to handle future bailouts of euro-area countries. The idea of turning the ESM "step by step into a kind of European Monetary Fund" with powers to impose reform criteria -- "those are ideas we have to develop further," Merkel said.
Pro-European Macron's resounding victory in France's presidential runoff on Sunday has prompted calls by his allies, including Germany's Social Democrats, for greater cooperation to address Europe's economic challenges.
Merkel's remarks expanded on her comment on Monday that she's ready to help Macron succeed "wherever possible." At the same time, constantly calling for other countries to help France "is a bit paternalistic," she said.
Before it's here, it's on the Bloomberg Terminal.
LEARN MORE