markets
Macy's Falls Most Since 2008 as Contagion Spreads Across Retail
By
Shares of J.C. Penney, Nordstrom tumble alongside Macy's

New CEO Jeff Gennette is coping with decline by slashing costs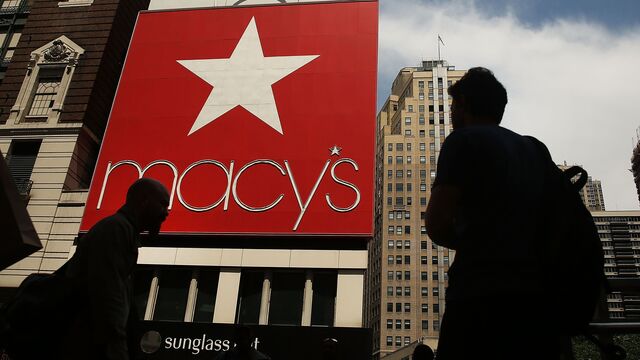 As Americans abandon department stores, sales at Macy's Inc. and Kohl's Corp. are falling even faster than Wall Street expected.
Disappointing results from the two chains sent a broader swath of stocks tumbling on Thursday, with investors growing more pessimistic on the beleaguered industry. Macy's suffered its worst intraday decline in more than eight years, and Kohl's, J.C. Penney Co., Nordstrom Inc. and Dillard's Inc. all fell more than 6 percent.
Macy's, the largest department-store company, posted a 4.6 percent decline in comparable sales last quarter. Analysts had estimated a 3.5 percent drop. Earnings also came in well below projections, suggesting that cost-cutting efforts aren't moving fast enough to offset the shrinking sales.
The bleak picture left analysts scrambling to reassess the company and its challenges.
"We now believe that our estimates did not accurately reflect the speed at which market-share losses would occur," Bridget Weishaar, an analyst at Morningstar Inc., said in a note. "Given first-quarter results, we think management will have a difficult time hitting its internal expectations for 2017."
The job of turning around Macy's falls to new Chief Executive Officer Jeff Gennette, who began running the company in late March. He's up against myriad hurdles, including declining foot traffic in malls, race-to-the-bottom discounts among his competition, and a shrinking customer base.
Gennette aims to nurse Macy's back to health by slashing expenses, shuttering stores and eliminating jobs. The Cincinnati-based company also is investing in e-commerce and its off-price brand, Backstage. But the efforts have been slow to pay off.
"We are focused on taking actions to stabilize our brick-and-mortar business," Gennette said in a statement. "At the same time, we will invest to aggressively grow our digital and mobile business."

Macy's shares fell as much as 17 percent to $24.50 in New York, the biggest intraday decline since the financial crisis in October 2008. Even before the rout, the stock had slid 18 percent this year.
Other retailers were punished by investors on Thursday. RH, the upscale furniture chain formerly known as Restoration Hardware, fell as much as 13 percent after it warned that markdowns were squeezing profit.
At Macy's, profit amounted to 24 cents a share in the fiscal first quarter, excluding some items. Analysts had estimated about 35 cents for the period, which ended April 29.
Kohl's reported similarly bleak sales in the first quarter. But its earnings were better than analysts projected. The Menomonee Falls, Wisconsin-based company posted a same-store sales decline of 2.7 percent on Thursday, compared with an estimated drop of 1.1 percent. Its profit amounted to 39 cents a share, 10 cents more than expected.
Like Kohl's, Dillard's beat earnings estimates on Thursday. But its comparable sales fell 4 percent in the first quarter.
Maintains Forecast
Macy's reiterated its forecast for the full year, saying that comparable sales would decline 2 percent to 3 percent. It expects earnings of $3.37 to $3.62 a share, excluding certain items.
As part of Macy's cost-cutting strategy, it is closing 100 underperforming stores -- 68 of which are being shut down this year. This will eliminate about 4,000 jobs, on top of 6,200 cuts announced in January.
The company is looking to generate annual savings of $550 million, beginning this year. The money will be pumped into the retailer's e-commerce business, Chinese operations and other units, such as its Bluemercury makeup division.
Macy's is also looking for more real estate transactions, which generated about $673 million in cash proceeds in the last fiscal year. Brookfield Asset Management was hired in November and given a two-year window to create development plans for about 50 of Macy's real estate assets.
Macy's recently ended a 2015 agreement that allowed Men's Wearhouse, a division of Tailored Brands Inc., to offer tuxedos within its department stores. The costs of the endeavor were higher than expected, and it didn't generate enough of a return.
Before it's here, it's on the Bloomberg Terminal.
LEARN MORE