Macron's Party Presents Candidates for Battle for Parliament
By , , and
En Marche! party presents mix of sexes, ages and backgrounds

June's elections will determine if Macron can actually govern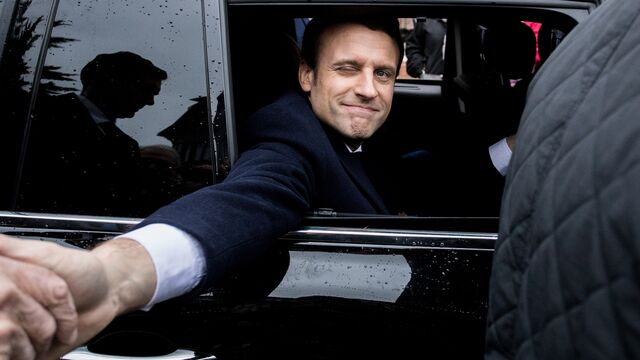 French President-elect Emmanuel Macron's political party presented its candidates for June's parliamentary elections, a first step towards turning Sunday's victory into an actual governing executive.
"We have the objective of building a majority for change, and to do that we must give En Marche! an absolute majority in parliament," campaign manager Richard Ferrand said in Paris.
En Marche!, the political movement that Macron created just a year ago, will contest 576 of the National Assembly's 577 constituencies in the two-round vote scheduled for June 11 and June 18. It won't present a candidate for the suburban Paris seat held by former Socialist Prime Minister Manuel Valls, who applied to En Marche! but didn't meet the criteria.
Ferrand presented the names of 428 candidates, chosen from a list of 19,000 applicants. The rest will be announced next Wednesday, a day before the deadline to register all candidates. Of those he named today, half are women and about half have never held political office. They range in age from 24 to 72.
Macron's list doesn't include any notable politicians or celebrities. They include a former fighter jet pilot, two former investigative judges and the head of communications of outgoing president, Francois Hollande.
Ferrand said 24 of them are incumbent Socialists who are switching allegiance. Valls couldn't be selected because of limits En Marche! imposes on the number of terms already served by a candidate. Some come from the centrist party of Francois Bayrou, who had backed Macron, but Ferrand didn't say how many.
Macron's Challenge
In France, the National Assembly passes laws and approves the prime minister, so Macron's movement must win a majority or at least enough seats to lead a coalition if he's to implement his platform of liberalizing the French economy, trimming taxes and cutting down on privileges held by political officials. France's upper Senate is indirectly elected by local officials, but has few powers to block legislation.
Although every recent French presidential election has been followed by the winner's party going on to take control of parliament, the outcome this time is made murky by Macron's lack of an established base. France's two traditional parties -- The Socialist Party and the center-right Republicans -- failed badly in the presidential elections but will be seeking to bounce back in the parliamentary vote. So will Marine Le Pen's National Front and the France Unbowed movement of far-left candidate Jean-Luc Melenchon.
An Ipsos poll released this week said that 61 percent of French voters don't want Macron to win a majority in parliament, even if he was overwhelmingly elected. Much of Macron's support in the second round came from people wanting to keep the nationalist Le Pen out of office, rather than picking him for his program.
There's been only one partial poll so far about the parliamentary elections. OpinionWay said May 3 that En Marche! would win between 249 and 286 seats, the Republicans and their allies 200 to 215, the Socialists 28 to 43, the National Front 15 to 25 and the far left six to eight. But the poll only covered the 535 seats of mainland France, excluding the 42 remaining seats for Corsica, overseas departments and French living overseas.
Before it's here, it's on the Bloomberg Terminal.
LEARN MORE