Macron Faces Test as Ally Bayrou Rejects Common Candidate List
By and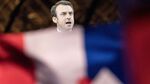 Emmanuel Macron faced his first major test since winning France's presidential election Thursday as ally Francois Bayrou rejected his party's proposed list of candidates for parliamentary elections.
Bayrou, a centrist who has run in three previous presidential elections, helped Macron win when he dropped out of the race and offered his backing in February. Now he says the announced 428 parliamentary candidates announced by Macron's Republic on the Move party don't include enough of his own MoDem movement.
"The list of candidates published this afternoon is that of the On the Move party and has nothing to do with a list which MoDem can approve," Bayrou said in a statement to Agence France-Presse. Bayrou says his party executive will hold a meeting to discuss the matter late Friday in the hopes that there is a return to "reason" in the meantime.
The clash highlights the challenge that Macron faces in turning his presidential victory into real governing power in legislative elections in June.
For now, Macron's party is holding firm. Richard Ferrand, its Secretary General, said Republic on the Move has no plans to revise its candidate list, though it still has 148 candidates to name.
"All political parties are feeling turbulence," Ferrand said on France 2 TV. "We're walking together with Francois Bayrou. It's understandable that there is some turbulence within the Modem."
Before it's here, it's on the Bloomberg Terminal.
LEARN MORE