German Rust-Belt Voters Test Merkel in Last Election Warmup
By , , and
Polls give CDU an edge in North Rhine-Westphalia on Sunday

Merkel's fading SPD challenger looks to revive momentum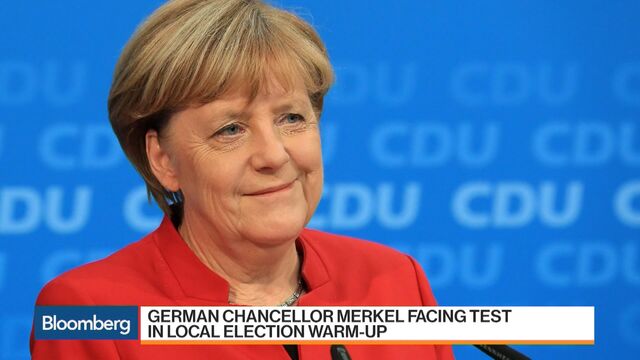 For someone who's rooting for Angela Merkel's election opponent, labor-union official Josef Huelsduenker has a lot of respect for the chancellor.
Sitting in a cafe in the town hall of Gelsenkirchen, a rust-belt town in Germany's Ruhr Valley industrial heartland, the longtime Social Democrat said Merkel's relationship with the unions "improved hugely" after the financial crisis during her first term. He finds her far more approachable than any of her fellow Christian Democrat cabinet ministers. 
"A win for Merkel in North Rhine-Westphalia would help her enormously, since it would consolidate her position in the party," Huelsduenker said ahead of elections in the state on Sunday. Among the Social Democratic membership, meanwhile, "there's a yearning for an SPD leadership figure, and that will continue beyond the regional elections."
The last state contest before the national vote on Sept. 24 illustrates the dilemma facing the SPD across the country: Merkel has occupied so much of the middle ground -- often at the expense of mainstream opinion in her party -- that there's little room for her national challenger, Martin Schulz, to distinguish himself.
The strain is already showing in Schulz's fizzling poll ratings. After two state election defeats in a row, he faces a make-or-break moment in his home state of 18 million people. The outcome will give the clearest sense yet of the national mood as voters in Europe's biggest economy weigh whether to give Merkel, 62, a fourth term as chancellor.
National Mirror
"North Rhine Westphalia always is a miniature federal election, given that we have almost a quarter of Germany's population," state premier Hannelore Kraft told Bloomberg.
Kraft, once considered a possible 2017 contender for the chancellorship, now is the SPD's last line of defense against a disastrous defeat that would cast a shadow over Schulz's campaign. As she struggles to win a new mandate for her Social Democrat-Green government, polls suggest an upset is within reach for Merkel's party.
The chancellor, written off last year for her refugee stance, is on the attack in the local campaign. In eight visits over six weeks, she's hammered away at the state government's record on debt, crime and highway maintenance, giving critical support to the CDU's candidate for premier, Armin Laschet. To top it off, she'll hold her closing rally on Saturday in Schulz's hometown of Aachen.

Kraft fought back this week in Bochum, a former coal-mining hub where General Motors Co.'s Opel unit closed a 52-year-old car plant in 2014. The Social Democrats stand for workers' rights, free child care and a new startup culture in the state, the premier told supporters. "We're the party that cares," she said.
That may not be enough on Sunday.
Support for the CDU was steady at 32 percent while the SPD slipped 1 percentage point to 31 percent compared to last week, according to an FG Wahlen poll for ZDF television published Thursday.
Last Sunday, the Social Democrats lost elections in the smaller state of Schleswig-Holstein. With Schulz, 61, in charge as national chairman and aspiring chancellor, party officials say the defeat left them even more concerned about the outcome in North Rhine-Westphalia, which has been governed by Social Democrats for 45 of the last 50 years.
"Ultimately, the SPD won't be able to deliver much of a positive signal," said Manfred Guellner, head of the Forsa polling company in Berlin. Surveys suggest that even if they hold the state, "the Social Democrats will lose votes and the CDU will gain," he said.
Election Night
Depending on how the vote breaks down, the Social Democrats may need help from Merkel's party to form the next state coalition. While the SPD and Greens won the last election in 2012 with a combined 50.4 percent, they're now polling about 10 percentage points lower.
Merkel's Christian Democrats are at about 30 percent, compared with 26.3 five years ago. While Kraft this week ruled out allying with the anti-capitalist Left party, the resurgent Free Democrats offer the CDU a coalition option. The anti-immigration Alternative for Germany, shunned by the mainstream parties, is polling at 9 percent.
Created by British occupation authorities after World War II out of former Prussian provinces and other areas, North Rhine-Westphalia struggled for decades to shift to a postindustrial economy. More recently, crime has put the Social Democrats on the defensive. In her stump speech, Merkel blamed state officials for mishandling the 2015 mass sexual assaults on women on New Year's Eve in Cologne, an event that galvanized sentiment against her open-borders refugee policy.

While diving into local politics, Merkel also plays on her advantage as the experienced incumbent who defends German interests and European values on the global stage. That was the message by Christian Democratic lawmaker Oliver Wittke at a rally alongside the chancellor this week in Haltern am See, a town of 38,000 north of the Ruhr Valley.
"It's a very good thing to have such an anchor of stability in charge of the government," Wittke told the crowd framed by gabled houses and a brick church. "This Sunday in North Rhine-Westphalia is important for our country."
— With assistance by Rainer Buergin, and Eddie Buckle
Before it's here, it's on the Bloomberg Terminal.
LEARN MORE