Five Charts on Why South African Banks Are in Zuma's Sights
By
Three boards have backslid on racial diversity in past decade

As CEO compensation rose, profit growth slumped in 2016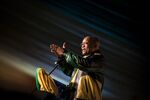 South Africa's four biggest banks, criticized by President Jacob Zuma for doing too little to boost black participation in their companies, haven't done themselves any favors. In the past decade, three boards have backslid on racial diversity and none of them reflects the country's demographics.
Of South Africa's population of 56 million people, about 81 percent are black Africans, 8.1 percent are white and the rest are Indian, Asian or from a group referred to locally as coloreds, who were also discriminated against during apartheid.

"Our board is representative of the pan-African nature of our business and our international shareholding," Barclays Africa Group Ltd. said in an emailed response to questions, referring to its London-based parent, which is cutting its stake in the company. "The Barclays divestment is likely to result in changes to our board. Both our chairman and CEO are women."

Banks are not alone. Across domestic industries, whites hold more than 68 percent of top management positions in the private sector, while blacks have 14 percent, according to Department of Labor data. The Banking Association South Africa in March told lawmakers at hearings into transformation in the industry that while progress in appointing more black executives has been slow, the ranks of junior and middle black managers has increased.
Boards have also become more bloated -- exceeding the size of some larger, international banks and levels recommended by a South African commission of inquiry into corporate governance in the industry.
The 21-member board of FirstRand Ltd. cost the largest African lender by market value 215 million rand ($16 million) in fiscal 2016, according to the company's latest annual report. That compares with an average of 142 million rand across the four companies. Nedbank Group Ltd. and Barclays Africa each have 17 directors. JPMorgan Chase & Co., which has operations in more than 60 countries, has 12 directors and a market capitalization more than five times that of the Johannesburg-based lenders combined.

"The board believes that its current size and composition is such that directors are able to discharge their fiduciary duties in a manner that is consistent with the interests of all stakeholders," FirstRand spokeswoman Sam Moss said. Non-executive directors are regularly rotated, she said.
Fourteen years ago, a study commissioned by the central bank and overseen by a judge, recommended that a bank's board should consist of no more than 16 members. A separate voluntary process known as the King Code of Governance Principles in 2009 said all companies should consider whether the size, diversity and demographics of their boards make them effective.
Nedbank adheres to the King principles and the board's composition takes into account additional sub committees that oversee aspects specific to banking and to "ensure diversity and independence," said Chief Executive Officer Mike Brown. "A smaller board may result in too many duplicate members at sub committees."
Lenders have also left room for criticism in the magnitude of their compensation increases versus performance, playing into the hands of officials from the ruling African National Congress and labor leaders who have decried the gap between rich and poor. At every bank, CEO compensation grew faster than profit.

South Africa's economy's expanded at the slowest pace since a 2009 recession last year as inflation rose and interest-rate increases impacted consumers' ability to spend. While the six-member banks index rose 27 percent in 2016, profit growth slowed at all of the four lenders amid the economic malaise.
And because pay increases outstripped earnings growth, each CEO at South Africa's four biggest banks also generated less profit for each unit of pay last year than in 2015, according to data compiled by Bloomberg.
Maria Ramos, CEO of Barclays Africa, generated 392 rand in net income for every rand the company paid her in base salary, incentives and bonuses in 2016, according to data compiled by Bloomberg and the company's annual report. Standard Bank, Africa's biggest lender by assets, has two CEOs, Ben Kruger and Sim Tshabalala, who together made 249 rand for each rand of pay. Tshabalala is the only black CEO among the four lenders.

Nedbank's "disclosure and remuneration structures currently appear to be the best in the South African banking industry," analysts including Harry Botha at Avior Capital Markets said in a note on May 8. "We rank Nedbank's corporate governance as good with a score of 3.75 out of 5, from 3.73 in 2015. In terms of the overall score, Nedbank continues to rate ahead of Barclays Africa, FirstRand and Standard Bank's scores of 3.48, 3.29 and 3.45 respectively."
Nedbank's Brown received the smallest rise in total compensation, while the heads of Standard Bank and FirstRand had increases below inflation, which averaged 6.3 percent last year, according to the central bank. Ramos' total pay shot up 33 percent after a share award valued at 8 million rand. The incentive, which vests after September 2018, was offered as retainer while London-based Barclays Plc sells down its stake. Standard Bank declined to comment, referring all queries to their annual report.
FirstRand's Johan Burger was the highest paid CEO, taking a total of 63 million rand for fiscal 2016, compared with average compensation of 45 million rand for the other executives.
Before it's here, it's on the Bloomberg Terminal.
LEARN MORE