China's Rag Trade Encounters South Asian Invasion at Canton Fair
Bloomberg News
Sellers from India, Pakistan, Turkey compete with local firms

'It's like giving a gun to your competitor' says foreign buyer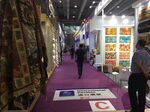 At Area 15.1 of the sprawling Canton Fair in the southern Chinese city of Guangzhou, exhibitors from India, Pakistan and Turkey touted their wares to global buyers last week.
Their presence at the gathering synonymous with China's rise as the world's manufacturing powerhouse illustrates the nation's shift from sweatshops producing cheap jeans and towels toward branded goods with better design and quality. It's an upgrade backed by a government keen to clean up the environment and willing to cede low-end industries if needed to do so.
"It's like giving a gun to your competitor and asking him to shoot you," said Edward Paul Phillips, business development director at T&A Procurement Plc. from Bangor, Northern Ireland, as he strolled through the fair's aisles last week. "If I was China, I would be selling Chinese products."
But that's not how China is playing it. After years of surging wages, it's no longer the cheapest option to produce low-end products like textiles, forcing some manufacturers to relocate to Bangladesh, Cambodia, Vietnam and elsewhere. China isn't throwing in the towel altogether -- increased automation, improved productivity, better quality and local branding are helping others maintain competitiveness and boost profits.
So rather than a symbol of decline, the arrival of emerging market competitors at the fair should be seen as part of the transition from "Made in China to Created in China," said Liu Sihua, owner of Hangzhou Riyan Import & Export Co. on China's east coast.
Read more: Price pressures are starting to come off the boil again
Home furnishings maker Sahil International from India's Panipat, about two hours drive from Delhi, was the first and only Indian company present when it attended the fair three years ago, said director Sahil Dhamija. This year, 15 to 20 Indian companies have booths, he said.
In that first year, Dhamija says they were stuck in an area selling mostly medical instruments. After the company's application to attend was rejected, they got a slot this year by attending under the umbrella of the Federation of Indian Export Organisations, in the fair's International Pavilion. But it only got half the space it wanted.
"I can only display 150 to 200 items," said Dhamija, as a colleague shoos away somebody trying to take photographs of his products.
Turkish companies have increased from about ten in 2015 to 20 this year, says Mehmet Bayam, chief executive officer at Denizli-based Vateks, whose products include towels and bathrobes. Competition is tough, but he's able to eke out enough wins because of the quality of Vatek's products, he said.
Canton Fair
The Canton Fair claims to be the world's largest such exhibition, where more than 24,000 exporters and 196,000 buyers, mostly foreign, ink deals in booths spanning exhibition space equivalent to 2,500 basketball courts. Turnover reached more than $30 billion during three sessions from mid-April to early May, according to its website.
Cotton Empire from Karachi in Pakistan competes with Chinese companies on bed sheets and came to the fair to seek new customers, said senior marketing manager Muhammad Shoaib Khan. That's in part because its main markets in the U.S. and Europe are shrinking as buying power remains weak, he said.
India's Hafizia, which makes carpets, rugs and home furnishings, has had success in China, selling to department store operator Luolai, which has almost 3,000 stores, says director Ubaid Akram Ansari. They're eyeing the rising wealth of China's swelling middle class.
Read more: $700 Cuckoo clocks show rising consumer power
China's embrace of regional competitors in the heart of its main twice-a-year export fair gels with President Xi Jinping's Belt and Road Initiative to tap the wealth and resources of a region spanning more than 40 percent of the world's population. While it will take decades to tell whether Xi's vision pays off, it seems attitudes are already shifting for some.
"Before we thought of India and Pakistan as our competitors," said Zhang Tao, assistant manager at Zhejiang Willing Foreign Trading Co. in Hangzhou, which exports yoga clothing. "But now we cooperate with them. They're welcome to come to China."
— With assistance by Kevin Hamlin, and Xiaoqing Pi
Before it's here, it's on the Bloomberg Terminal.
LEARN MORE