Chaebol Shadow May Lift Under S. Korea President's Jobs Plan
By , , and
SMEs key to Moon pledge to create 500,000 private-sector jobs

Small companies suffer from chaebol 'stranglehold' on economy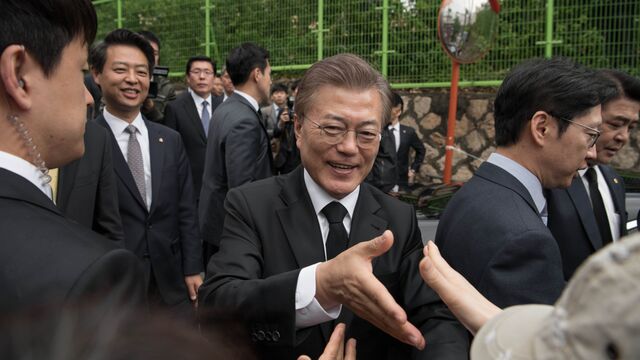 South Korean President Moon Jae-in rode into office railing against the scandal-plagued chaebol including Samsung Group and Lotte Group that dominate the economy.
In a nation where the 10 biggest conglomerates own more than a quarter of all business assets, Moon pledged a focus on small- and medium-sized enterprises to help him meet a goal of creating 500,000 jobs in the private sector. That's exactly what little guys like Seondo Electric Co. -- a maker of switchgears, vacuum circuit breakers and control systems -- want to hear.
"Providing support to the SMEs was one of the policy pledges that the president made during his campaign," said Choi Sung-jin, a spokesman for the Ansan-based company with 189 workers. "While past governments have tried and failed, we believe the new government will be able to carry this through because he is seen as being closer to the common people than the privileged."
Moon's task got a bit harder Thursday after the unemployment rate for young people in April rose to 11.2 percent, compared with 10.9 percent a year earlier. The primary drivers of that increase were unemployed university graduates, who flooded the market as conglomerates restructure in the aftermath of scandals that helped land Moon in the top job to begin with.
QuickTake South Korea's Moon Brings Shift on North Korea
The overall unemployment rate increased to 4 percent, compared with 3.7 percent a year earlier.
On his first day in office Wednesday, Moon said job creation was his No. 1 task. He unveiled several measures intended to get more people working, including setting up a presidential jobs committee and appointing a jobs czar. On Friday, the Finance Ministry said the government will implement a supplementary budget and other policies to create jobs and stimulate the economy.
Chaebol 'Stranglehold'
While the 10 biggest chaebol traditionally have steered the economy, Moon can't count on them to hire at home. With sluggish economic growth in their domestic market, companies such as Hyundai Motor Co. increasingly are looking overseas.
The nation's biggest automaker produced about 46 percent of its vehicles in South Korea last year, down from 60 percent in 2010, according to data compiled by Bloomberg.
"The stranglehold that chaebol have on the rest of the economy doesn't allow SMEs to flourish," said Justin Jimenez, a Bloomberg Intelligence economist. "That puts a ceiling on those businesses' ability to hire."
Moreover, anti-chaebol sentiment is running high among the populace. An influence-peddling scandal led to the impeachment of his predecessor, Park Geun-hye, and the indictment of Jay Y. Lee, vice-chairman of Samsung Electronics Co. Both have denied wrongdoing.
Economic Slowdown
In a separate case, some Lotte Group family members face criminal charges ranging from embezzlement to fiduciary breaches amounting to about 280 billion won ($248 million). They also have denied wrongdoing.
During his campaign, Moon called for an end to the "chaebol-focused growth strategy," blaming it for low wage growth and joblessness. The Bank of Korea projects economic expansion of 2.6 percent this year. The median of estimates compiled by Bloomberg is for 2.5 percent growth, a decline from 2.8 percent last year.
That makes SMEs, defined as companies with less than 300 workers, central to his revitalization plans. They employ about 14.3 million people, or about 85 percent of South Korea's workforce, the labor ministry said in December.
"The time for SMEs has come," the Korea Federation of SMEs, which represents about 570 businesses, said in a statement. "Economic growth should be centered on SMEs that could drive innovations and job creation."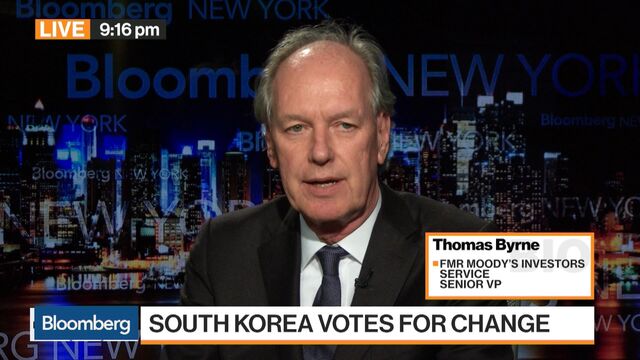 During his campaign, Moon promised to support the renewable-energy sector and steadily reduce the nation's reliance on nuclear-power plants. That could give a boost to S-Energy Co., a producer of solar modules that employs 167 people at two domestic factories.
Suffering from increased competition in its two main export markets, the U.S. and Japan, S-Energy sales fell 6 percent last year to 281.2 billion won. Park Sang-min, a managing director, is counting on Moon to provide tax breaks and other sweeteners to help his company compete.
"Much of the policies have been centered on large businesses," Park said. "We ask that the government gives us some incentive and opportunity to grow and become more competitive against the big companies."
— With assistance by Hooyeon Kim
Before it's here, it's on the Bloomberg Terminal.
LEARN MORE