Brexit Bulletin: No Rate Hikes Before Brexit?
By
BOE has plenty of reasons to hold off rate hikes as economy slows

Carney will speak to reporters after rate decision on Thursday
Sign up to receive the Brexit Bulletin in your inbox, and follow @Brexit on Twitter.
Bank of England Governor Mark Carney may never get to raise U.K. interest rates.
Economists at Bloomberg Intelligence and Morgan Stanley are among those who predict the central bank's benchmark rate will be kept at 0.25 percent until at least March 2019 when Britain quits the European Union, leaving Carney with little time to increase rates before he steps down three months later.

As Bloomberg's Fergal O'Brien reports on Thursday, while some policy makers have already begun to sound the alarm on inflation, the downside risks posed by Brexit will probably be enough to keep the central bank from rushing to raise rates. Policy makers convene in London today and Carney will speak to reporters afterwards.
For households, the pickup in prices from the weaker pound is putting the pinch on pockets, and retail sales are falling. Consumers are already saving less, meaning they may not have much to fall back on as real incomes start to fall.

On top of the weaker numbers, the bitter start to the Brexit talks threatens to undermine confidence among households and companies, with further fallout on domestic demand. Bloomberg's Brexit Barometer is still in the "cloudy" range.
"The economy is entering uncharted waters and remains in flux," BI analysts Dan Hanson and Jamie Murray said in a report on Wednesday. "While that in itself isn't necessarily a reason for policy inertia, the approaching transition is unlikely to create an environment conducive to a tighter policy stance for some time."
Bullish Barclays
Barclays Chief Executice Officer Jes Staley may well be Prime Minister Theresa May's favorite banker.
In an interview with Bloomberg Television's Erik Schatzker, Staley said London's financial sector is inventive enough to find a way around Brexit and still remain integral to the EU economy, providing politicians don't erect walls to shut out the U.K.
Says Staley:
 "So long as those barriers are not put up, there will be workarounds around Brexit so that London will remain a very important source of capital for continental Europe. There will be uncertainty, but having been in the financial industry as long as I have, it's amazing how creative it can be."
Staley, a 60-year old American, has consistently been among the most optimistic of bank executives on the impact Brexit will have on financial firms' ability to service EU clients. Barclays has settled on Dublin for its expanded EU base, but is expecting to add only about 150 staff there, people with knowledge of its plans said earlier this year.
Earlier on Wednesday, Staley described Brexit as a "wholly manageable challenge."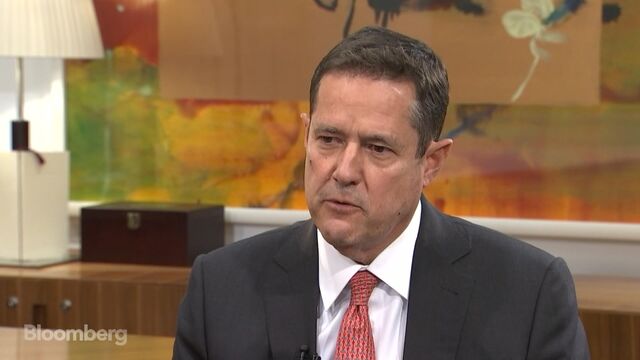 How to Solve The Brexit Bill
Just how much the EU wants the U.K. to pay when it leaves and just how much the U.K. is willing to pay is already proving the most toxic of topics before the Brexit talks even begin.
Now Andre Sapir of the Bruegel think tank has a solution for the so-called Brexit bill, which aims to create the time and goodwill needed for settling disagreements over issues such as citizens' rights and trade. In a report published on Thursday he suggested allowing a judge or an arbitrator to resolve the size of the bill.
That "would free negotiators from a thorny issue and allow them to concentrate their political capital on what really matters to citizens and business: the future EU-UK relationship," he wrote.
While May views the European Court of Justice unfavorably, Sapir suggested using the Permanent Court of Arbitration, which is located in The Hague and was formed in 1899 to resolve disputes between states.
Brexit Bullets
The opposition Labour Party's manifesto will rule out a "no deal" Brexit and pledge to protect EU funding, according to the Daily Telegraph
EU negotiator Michel Barnier said in Madrid that he hoped to wrap up a deal with the British by September or October 2018 and reiterated his first priority for the talks is citizens' rights
Migration Watch U.K. is proposing a "brickie visa" that could last for three years to help offset a potential skill shortage after Brexit
May appointed civil servant Peter Hill as her principal private secretary, boosting the Brussels insight in her team
Eurostar says worries about Brexit are fading as business bookings surge on trains linking London with Paris via the Channel Tunnel
University of Manchester cites Brexit in axing 171 jobs, says Guardian
Germany's Bundesbank won't fight for U.K.-based banks to move to Frankfurt, Bundesbank board member Andreas Dombret tells Politico
On the Markets
Sterling is nearing another milestone in its recovery against the dollar, approaching the $1.30 level for the first time since September, even as the economy shows signs of weakness.
It has also reached its highest levels versus the common currency since late April.

Brexit jitters aren't showing up in pound options either. One-year implied volatility in sterling against the dollar fell on Wednesday to the lowest level since August 2015, reflecting a trend of receding expectations for price swings in other assets. 

And Finally…
For the first time in two years, the U.K. returned as the top destination for Poles seeking to work abroad.
A "last wave" of workers is preparing to find employment in Britain before Brexit, according to a survey by Work Service. Nineteen percent of Polish citizens who are planning emigration want to work in the U.K., five percentage points more than in its September survey and the first increase since 2015.
"Interestingly, more than half of the people surveyed who are considering moving to Britain declare that they want to make it there before Brexit," said Maciej Witucki, Chief Executive Officer of Wroclaw, Poland-based Work Service.
For more on Brexit follow Bloomberg on Twitter, Facebook and Instagram, and see our full coverage at Bloomberg.com
Before it's here, it's on the Bloomberg Terminal.
LEARN MORE