business
Bombardier Chairman's Reduced Role Fails to Placate Key Investor
By
Beaudoin to take pay cut yet lead company's board as chairman

Some investors withheld support after executive-pay furor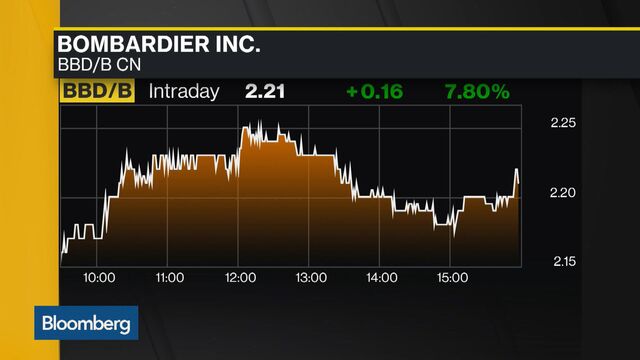 Bombardier Inc. Chairman Pierre Beaudoin will take a "significant" pay cut as he relinquishes an executive role but remains the board's leader, failing to satisfy a major investor agitating for change because of the planemaker's executive-compensation practices.
The company didn't detail the shift in Beaudoin's duties, after two years as executive chairman. The 54-year-old is a member of Bombardier's founding family, which controls the Montreal-based company through a special class of multiple voting shares. 
Beaudoin's new position fell short of remedies sought by Bombardier's largest outside shareholder. Caisse de Depot et Placement du Quebec had pushed for an independent chairman after Bombardier raised executive pay while cutting thousands of jobs and relying on taxpayer support for its $6 billion C Series jetliner program.
"The change announced today removes ambiguity at the top of the company. In that sense, it's a step in the right direction," Caisse spokesman Maxime Chagnon said by email. "That said, on the matter of principle, we continue to believe Bombardier needs an independent chair."

Criticizing the board for a "lapse of governance" on compensation, the pension fund manager was the first of several institutional investors to withhold support for Beaudoin's re-election.
"It's not what the public and institutional investors wanted. They wanted Mr. Beaudoin leaving the chairmanship," said Michel Nadeau, executive director of the Montreal-based Institute for Private and Public Governance. "It's a half-departure." 
Despite the outside opposition to Beaudoin, shareholders approved his re-election with 92.3 percent of the votes cast at the annual meeting Thursday. The company's compensation policy was approved with 93.5 percent. 
"We listened to the people. We took action," Chief Executive Officer Alain Bellemare told reporters. "There is strong support for the board." Earlier in the day, Bombardier reported earnings and cash flow that were better than analysts expected.
Shares Rise
"The management team continues to execute its plan step-by-step, as shown by the quarterly results," Chagnon said.
The widely traded Class B shares climbed 6.8 percent to C$2.19 at 2:33 p.m. in Toronto after climbing as much as 9.8 percent for the biggest intraday advance since Jan. 10. Bombardier was down 5.5 percent this year through Wednesday.
Beaudoin will receive a "significant" reduction in compensation this year, director Jean Monty told shareholders, without giving details. Beaudoin will give up his executive responsibilities June 30, the company said in a statement. That will mark the first time since Bombardier's founding 75 years ago in July, that no member of the founding family will have an executive position.
Bombardier last month said it would roll back Beaudoin's 2016 compensation and defer payouts for managers including Bellemare to appease angry taxpayers.
Cash Usage
The manufacturer used $593 million in free cash flow in the first quarter, better than the $809 million that was the average of analysts' estimates compiled by Bloomberg. Cash use a year earlier was $750 million. The company also reaffirmed its full-year financial guidance.
"Doing what it said it would do is building credibility," Walter Spracklin, an analyst with RBC Capital Markets in Toronto, said in a note to clients. Cost-cutting efforts are taking hold and "we believe investor confidence will continue to improve as this management team executes and delivers on its targets."
Bellemare is working to recover from two years of shrinking revenue and three straight annual losses. With Bombardier's shares falling to a 26-year low in 2016, Bellemare announced about 14,500 job cuts to contend with cost overruns and a delay of more than two years in developing the C Series jetliner. The single-aisle plane is an effort to break into a market dominated by Boeing Co. and Airbus SE.
Margins Up
"We are exactly where we wanted to be after the first quarter," Chief Financial Officer John Di Bert said on a call with analysts. "Our margins continue to trend up." He forecast revenue would increase 1 percent to 3 percent for the year.
Bombardier said it broke even in the first quarter on an adjusted basis, exceeding the average analyst estimate of loss of two cents a share. Revenue of $3.58 billion trailed the $3.85 billion estimate.
Investments in the period included about $275 million mainly for the Global 7000 and $340 million on working capital mostly for a production ramp-up of the C Series jetliner and various rail-equipment projects, Bombardier said in a slide presentation posted on its website.
Bombardier had $3.87 billion of available short-term capital resources as of March 31. The figure includes $2.89 billion in cash and cash equivalents and $980 million in available revolving credit facilities.
Canada's federal government agreed in February to provide C$372.5 million ($272 million) in support for the C Series and the Global 7000 business jet program after more than a year of discussions. The federal assistance gave Bombardier an additional cushion, while falling far short of the $1 billion in aid the company had initially sought. Quebec invested $1 billion in the C Series program last year.
Before it's here, it's on the Bloomberg Terminal.
LEARN MORE