EU's Chief Brexit Negotiator Reassures Ireland That It Won't Be Forgotten in Talks
By and
EU Brexit negotiator visits Dublin to reassure on U.K. talks

Ireland's interest will be EU's interest, Barnier says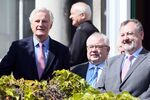 Follow @Brexit for all the latest news, and sign up to our daily Brexit Bulletin newsletter.
The European Union's chief Brexit negotiator quipped that his Ryanair flight to Dublin, even without coffee, underlined the benefits of the bloc, as he sought to reassure the Irish of his commitment to protecting the nation as the U.K. pulls out of the EU.
In an honor normally reserved for visiting heads of state, Michel Barnier was invited to address Ireland's parliament on Thursday, and took the opportunity to extol the achievements of the EU, such as the ease of travel.
"I experienced it first hand myself when I flew to Dublin yesterday night on a rather well-known low-cost carrier," Barnier said. "Still no coffee but a bit more -- a little bit more -- seat space than before. A little bit."
Ireland is viewed as the nation most vulnerable to Brexit, with the country's central bank estimating that the U.K.'s exit from the EU could cost as much as 40,000 jobs. EU leaders say a deal on the land border between Ireland and Northern Ireland, which stayed in the U.K. after Irish independence in 1922 and suffered decades of deadly violence before the arrival of the European single market and a peace accord, is on the priority list as talks loom.
"I want to reassure the Irish people: in this negotiation Ireland's interest will be the Union's interest," Barnier said.
Even as Barnier offered reassurances to his audience, he underlined the challenge at hand.
"We have a duty to speak the truth," he said. "The U.K.'s departure from the EU will have consequences. Customs controls are part of EU border management."
Before it's here, it's on the Bloomberg Terminal.
LEARN MORE