U.S. and Europe to Hold Talks on Broadening Airline Laptop Ban
By , , and
DHS Secretary Kelly will meet with European Commissioners

Industry is seeking alternatives to reduce travel disruptions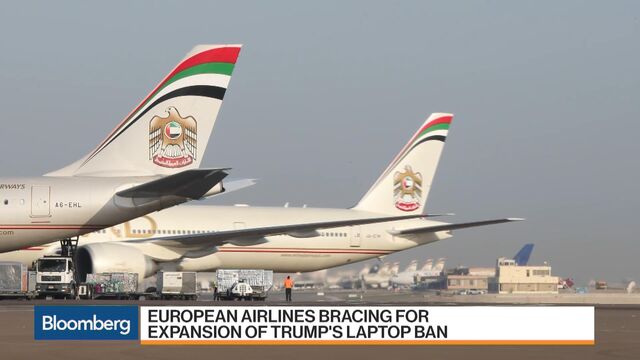 U.S. Homeland Security Secretary John Kelly will meet with European Commission officials in Brussels next week to discuss prohibiting passengers bound for America from carrying laptops and other electronic devices in airliner cabins.
Kelly on Friday talked with European commissioners Dimitris Avramopoulos and Violeta Bulc. Even though European airports and airlines are preparing for a ban, no action has been announced as officials continue their talks.
Avramopoulos told Kelly that the threat affects the EU and the U.S. in the same way and so the response should be made in common, according to a summary of the conversation provided by a European Commission official. Avramopoulos and Bulc wrote to Kelly earlier in the week to seek more collaboration.
The U.S. Homeland Security department didn't immediately respond to requests for comment after the call. There won't be any announcement on U.S. plans Friday, DHS spokeswoman Jenny Burke said earlier in the day.
Extending electronics restrictions -- now in place for travel from some Middle Eastern and African airports -- to Europe would disrupt one of the world's busiest and most lucrative travel markets just ahead of the peak summer tourism season. It could also prevent business passengers' ability to work on their laptops on long-haul routes across the Atlantic.
Airline and travel-industry groups are quietly expressing concern about the plan under consideration by U.S. security authorities to broaden the ban.
Travel Groups
Two travel trade groups, the Global Business Travel Association and the U.S. Travel Association, issued statements Thursday saying genuine security risks should be addressed, but also urging the U.S. to be as flexible as possible to minimize disruptions.
"The question remains whether the targeted application of policies banning personal electronics is an effective measure to reduce the risk of terrorism," Michael McCormick, executive director of the business-travel group, said in a statement.
More than 3,000 flights are expected to arrive in the U.S. from the European Union each week this summer. The U.S. is the world's second-largest market for spending on business travel, following China, according to the GBTA. Global spending for business travel topped $1.3 trillion and is projected to reach $1.6 trillion by 2020, the group said.
Prior story: Airlines Braced for Expansion of Trump Laptop Ban to Europe
Earlier this week, European Commission officials took the unusual step of writing to Kelly and U.S. Transportation Secretary Elaine Chao urging them to share information about expanded security actions on electronics.
Kelly met in Washington Thursday with U.S. airline officials to discuss details of a possible expansion. The meeting included representatives of American Airlines, Delta Air Lines and United Airlines, as well as industry trade group Airlines for America.
U.S. airlines are resigned that a broadened ban on electronics will occur at some point, one industry official said Friday. The person wasn't authorized to speak about the ongoing talks with government and asked not to be identified.
The U.S. announced on March 21 that electronic devices larger than smartphones would be banned from cabins on flights originating from eight countries, impacting global hubs including Dubai, Abu Dhabi and Istanbul. The action, which affects major carriers such as Emirates, Qatar Airways and Turkish Airlines, resulted from fears that bombs capable of downing an airliner could be hidden in the devices.
Read more: Qatar Air, Etihad to Offer Loaner Devices in Answer to U.S. Ban
DHS is considering an expansion of that order, but no decisions have been made, Burke said in an email. "DHS continues to evaluate the threat environment and will make changes when necessary to keep air travelers safe," she said.
Airline representatives have also expressed their concern to Congress, according to two congressional staffers who asked not to be named because they aren't authorized to discuss the discussions.
U.S. airlines have been pushing alternative solutions they believe will address security concerns while sidestepping measures that would block business travelers from working on laptops and prevent other fliers from viewing movies or reading books on tablets, according to the staffers and an industry official. The official asked not to be named because he wasn't authorized to speak about discussions with the government.
Alternative Measures
Airlines have suggested measures such as asking passengers to turn on their electronic devices and subjecting all devices to explosive-detection swabs. Another strategy might be to use CT X-ray technology, which uses scores of X-ray images from multiple vantage points to provide a higher definition image, the person said. CT is used for checked bags but isn't available at checkpoints for carry-on luggage.
At the same time, the airlines will do whatever is necessary to address any legitimate security threat, the industry official said.
Finding a way to expand trusted-traveler programs, such as the Transportation Security Administration PreCheck, may also be a solution, McCormick of the GBTA said. Passengers who agree to be screened for terrorist ties now get expedited screening at U.S. airports, but the program isn't recognized by airport security workers in other countries.
DHS Secretary Kelly and Representative John Katko, a New York Republican who is chairman of the House Transportation Security Subcommittee, have said in recent weeks that the initial measures were prompted by intelligence that terrorist groups have gotten better at concealing explosives in electronic devices. A bomb installed in a laptop or tablet may not be detectable by existing X-ray machines at security checkpoints.
Terrorist Groups
The current laptop ban on flights from eight countries in the Middle East and Africa doesn't apply to travel that originates in the U.S. to those countries.
Some carriers serving those routes have begun loaning equipment to premium customers. Business-class travelers on Qatar Airways hand over their laptops at the gate for storage in the hold and receive specially purchased computers. Etihad Airways PJSC planned to provide Apple Inc. iPads, according to a March announcement.
Meanwhile, U.S. and European airlines are preparing for an anticipated widening of the ban.
Air France-KLM Group and Deutsche Lufthansa AG say they're making preparations for the moratorium on devices on flights from Europe, including tablets and games consoles. The European Commission has written to President Donald Trump's administration to urge cooperation on any new measures.
"We are in contact with our partners and the authorities, and we're preparing for the possibility," Air France spokeswoman Ulli Gendrot said by phone.
Lufthansa has been working internally on different scenarios for responding to any extension of the ban, spokesman Helmut Tolksdorf said. Both companies have close ties to major U.S. operators, with Air France-KLM allied to Delta Air Lines Inc. and Lufthansa partnered with United Continental Holdings Inc.
U.S. airlines also have been discussing a potential expansion of the ban with officials at DHS and TSA for several weeks, according to one of the U.S. people briefed on the talks.
— With assistance by Marine Strauss, Deena Kamel, Richard Weiss, and Benjamin D Katz
Before it's here, it's on the Bloomberg Terminal.
LEARN MORE