Your Evening Briefing
Bloomberg News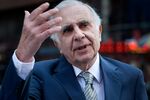 The evening briefing will soon be available in your inbox every day. To be among the first to get it, sign up here. 
You can't always be right, and being wrong can be cost you dearly. Just ask Carl Icahn. In the summer of 2014, the billionaire investor bought into rental-car company Hertz, saying he believed the shares were undervalued. With prices down almost 90 percent since then, he might be wishing he could take that one back. Now, he faces tough choices - start selling and absorb a big loss, wait it out or add shares at a depressed price hoping for a turnaround — Alex Millson
Trump's firing of FBI chief James Comey is a crisis of American rule of law. There is reason to be deeply concerned about Comey's firing, which has the effect of politicizing law enforcement - a risky precedent in a rule-of-law democracy, writes Noah Feldman. And the fact that the FBI is investigating the Trump administration makes that politicization look like pure presidential self-interest, according to Feldman.
This is the five-word message that got a Citigroup trader fired. The chatroom message to a rival banker, which read "he's a seller/fking a," was enough to cost David Madaras his job as the bank fought to appease regulators probing the foreign-exchange scandal engulfing the industry. The message was disclosed on the first day of Madaras's employment lawsuit in London.
A pie in the face for Qantas's CEO won't stop him. Alan Joyce was in mid-sentence during a speech in Perth, Australia, when a 67-year-old protester hit him in the face with a lemon meringue pie for supporting same-sex unions. Joyce has pledged not to let the attack stop his equality fight.
China is building a Disney World for Wine. The country's winemaking powerhouse, Changyu, is building French-style chateaus and Italianate castles around the country — and an entire theme park-like "Wine City" — to encourage the Chinese to get passionate about the grape.
Australians looking to buy homes get little help from the budget. Those hoping the government would help bring down sky-high house prices are likely to be disappointed. While announced measures included tax breaks for people saving for their first home to fines on foreign investors who leave properties unoccupied, analysts are skeptical they will do much to boost affordability.
These watches make the best graduation gifts. It's a time-honored tradition to give recent graduates a present that honors time. Here are some choice Class of 2017 timepieces for the cap-and-gown set, however old they may be. A select few shoppers, however, may wish to hold off for the auction of what may be the world's most expensive Rolex, once owned by Bao Dai, Vietnam's last emperor.

Before it's here, it's on the Bloomberg Terminal.
LEARN MORE