Trump Harbored Comey Doubts From Election, Spokeswoman Says
By and
Comey testimony last week was last straw for administration

Justice Department leaders recommended firing on Monday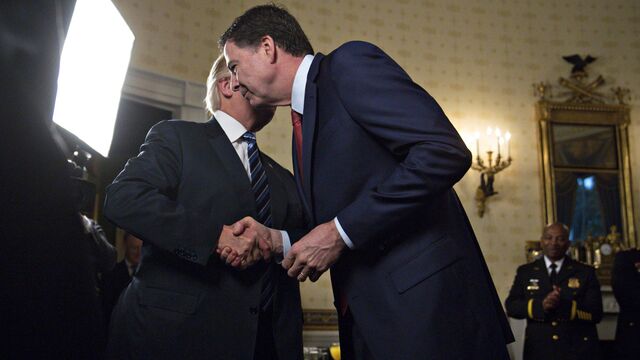 President Donald Trump had misgivings about retaining James Comey as FBI director as early as his election in November, White House spokeswoman Sarah Sanders said.
As recently as May 3, White House Press Secretary Sean Spicer said that Comey retained Trump's confidence. But on Tuesday Trump fired him, after Attorney General Jeff Sessions and Deputy Attorney General Rod Rosenstein told him the day before in a meeting at the White House that he should be dismissed, Sanders said.
The president, Department of Justice officials, "bipartisan" members of Congress and "the rank-and-file of the FBI" had lost confidence in Comey over the last several months, Sanders said. Trump "had been considering letting go Director Comey since the day he was elected," Sanders told reporters on Wednesday.
Sanders said the Trump administration's concerns peaked last week. Comey said at a congressional hearing that he had no regrets about his decision last July, without informing top Justice Department officials, to hold a news conference on the FBI's investigation of Hillary Clinton's handling of her email as Secretary of State. He also said he'd do it again.
Sanders said Comey had "essentially taken a stick of dynamite and thrown it into the Department of Justice by going around the chain of command."
"That is simply not allowed," Sanders said.
For a quicktake Q&A on what happens to the Russia probe after Comey firing click here.
Trump said in an April 12 interview on Fox Business News that he had confidence in Comey, but left the door open for his opinion to change. Trump said at the time that he wouldn't ask for Comey's resignation.
"I want to give everybody a good, fair chance," he said in the interview. "Director Comey was very, very good to Hillary Clinton, that I can tell you. If he weren't, she would be right now going to trial."
On May 3, the same day his spokesman said Comey retained Trump's confidence, the president tweeted that "Comey was the best thing that ever happened to Hillary Clinton in that he gave her a free pass for many bad deeds!"
On Monday, Trump asked Rosenstein to put his concerns about Comey into writing after the deputy attorney general and Sessions asked for the White House meeting, Sanders said.
Shortly before firing Comey on Tuesday, Trump called congressional leaders of both parties, the top Republican and Democrat on the Senate Judiciary Committee, the chairman of the House Judiciary Committee, and Senator Lindsey Graham, a Republican leading one congressional investigation into Russian meddling in the 2016 election, to inform them of his decision, Sanders said. He called Senator Bob Corker, chairman of the Foreign Relations Committee, shortly after Comey's dismissal, she said.
Click here for a live blog of Sanders White House news briefing
"Several" candidates are under consideration to replace Comey, she said, without naming them. Trump will meet on Wednesday with the FBI's acting director, Andrew McCabe, to discuss morale at the agency, Sanders said.
Comey will get a chance to tell his side of the story if he accepts an invitation to testify before the Senate Intelligence Committee at a closed meeting next week. A spokeswoman for the committee's chairman, Richard Burr of North Carolina, confirmed that he'd been asked to appear.
Meanwhile, several hundred people rallied outside the White House on Wednesday to condemn the Comey firing and demand the appointment of a special prosecutor to investigate the Trump campaign's connections with Russian government officials. The crowd chanted slogans such as "shame, shame, shame" and "do your job" as speakers delivered one attack after another on the president.
"We have a strong message for Republicans in Congress," said Tom Perez, chairman of the Democratic National Committee. "Wake up and smell the cover-up."
— With assistance by Margaret Talev, and Alan Levin
Before it's here, it's on the Bloomberg Terminal.
LEARN MORE