markets
Toronto Exchange `Legitimate Contender' For Aramco IPO, CEO Says
By
TMX Group CEO Eccleston says still in talks with Saudi Aramco

Shares of TMX fell most since 2015 as earnings missed estimate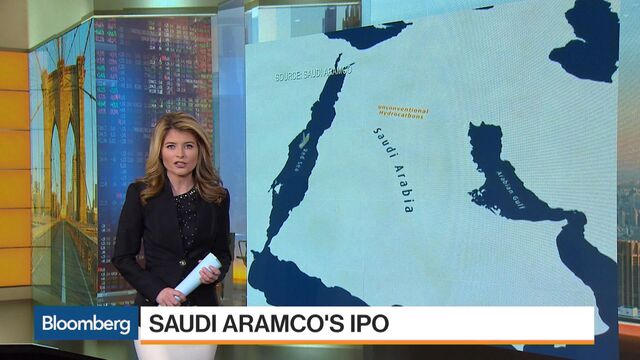 The Toronto Stock Exchange says it's still in the running for part of the Saudi Arabian Oil Co. listing, which could be the world's largest initial public offering.
"Yes, we're still in conversations and yes, it's still a possibility," Lou Eccleston, chief executive officer of TMX Group Ltd., which owns the exchange, said in an interview in Toronto on Wednesday. "We continue to pursue it. We are a legitimate contender."
Saudi officials have said they are looking to list as much as 5 percent of the company -- better known as Saudi Aramco -- in Riyadh plus one or two foreign exchanges. It's fiercely competitive, with London, New York, Hong Kong, Singapore, Tokyo and Toronto all named as possible candidates.
Diversifying
"It's very competitive because it's going to be very beneficial to the marketplace they choose," said Eccleston, who joined TMX in late 2014. Winners will benefit from fees as well as the public profile that such a massive IPO would bring.
Wooing Saudi Aramco is part of a broader strategy initiated by Eccleston two years ago. This includes attracting more international listings and diversifying the TSX's traditional resource base into new areas such as technology and life sciences. Energy and materials stocks account for about a third of the S&P/TSX Composite Index and two-thirds of the TSX Venture index.
To do this, TMX is sending sales people to Silicon Valley, New York, London and Tel Aviv. Last year, TMX was the top global exchange for international listings and almost 30 percent of its total revenue came from customers outside of Canada, Eccleston said. In the first quarter of 2017, it came third globally for new listings, behind only Shanghai and Shenzhen.
Shares Tumble
However, investors weren't impressed with TMX's first-quarter results Wednesday. Shares tumbled 6.7 percent, the most since December 2015, to C$72.97 in Toronto after earnings per share missed the lowest analyst estimate.
RBC analyst Geoffrey Kwan lowered his price target on the shares to C$78 from C$80.
"With the share price up 120 percent since the start of 2016 and its current valuation at a premium relative to equity-centric global exchange peers, we see the shares as fairly valued," Kwan wrote in a note.
Before it's here, it's on the Bloomberg Terminal.
LEARN MORE