markets
Pimco and BlackRock Are Buying Up Assets in the 'Fragile Five'
By
Assets from higher-risk developing nations gaining popularity

Four of five 'fragile' currencies have appreciated this year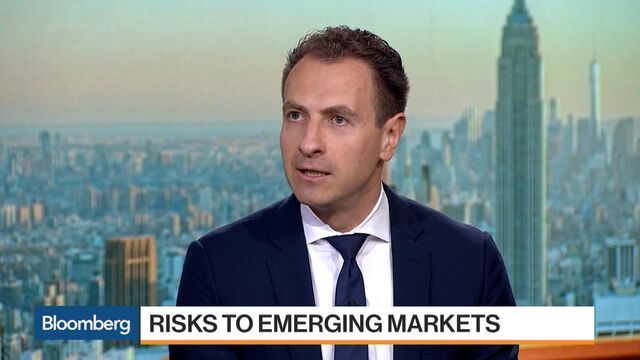 Morgan Stanley's "fragile five" may no longer be so frail.
Pacific Investment Management Co., BlackRock Inc. and Franklin Templeton are among investors scooping up assets from the developing nations that in 2013 earned the searing distinction as they struggled to attract foreign capital to finance trade deficits.
Now, current-account deficits -- the broadest measure of trade in goods and services -- for South Africa, Brazil, Turkey, India and Indonesia are less than half their size four years ago, and fiscal deficits are also narrowing.
"We've seen a huge improvement over the past two or three years," Pimco portfolio manager Yacov Arnopolin said last week on Bloomberg TV. "They're no longer so fragile."

Morgan Stanley coined the moniker in 2013 for countries with high external funding needs amid concern that borrowing costs were set to surge as the Federal Reserve pulled back on its $70-billion-a-month bond and mortgage-backed securities program. The reality never matched the fears, creating a buying opportunity when the assets sold off, according to Pablo Goldberg, a BlackRock portfolio manager who's overweight Brazilian debt.
The average current-account shortfall in the five nations has shrunk to 1.8 percent of gross domestic product, from a record 5 percent in 2013, according to data compiled by Bloomberg. An increase in foreign reserves from India to Indonesia also gives investors comfort that the countries could defend their currencies, if need be.

Viktor Szabo, a portfolio manager at Aberdeen Asset Management Plc, says he's turned more positive on the nations given a more supportive external backdrop and what seem to be relatively stable governments. He's overweight Brazilian and Indian local bonds, as well as Turkey's local and foreign notes.
He says concern about Turkish political tensions among investors is "overblown." On Tuesday, the nation faced another shock when U.S. President Donald Trump agreed to arm Kurdish forces in Syria to reclaim territory from Islamic State, despite strong objections from Ankara. The lira fell 1.1 percent after the news, after losing 1.2 percent Monday.
"It's a stable country with no risk to debt repayment and the central bank is super hawkish," Szabo said.
In South Africa, investor anxiety as measured by 1-month implied currency volatility has decreased the most in the world since President Jacob Zuma's cabinet purge and the firing of Finance Minister Pravin Gordhan in March. Pimco's Arnopolin said investors should give the new technocrats that have ascended into the government the "benefit of the doubt."

To Templeton's Stephen Dover, political stability and efforts at changing rules to support economic growth are bolstering his outlook on the five countries. He expects Brazil to cut its benchmark interest rate to 8.5 percent from 14 percent over a 12-month-plus period, leading to more borrowing by consumers and companies. Meanwhile, India's efforts to control inflation have steadied fiscal and current account deficits. Indonesia's current-account gap also appears to be on the decline, he said.
In Turkey, despair last year from a wave of credit-rating downgrades amid terrorist attacks, a coup attempt and escalating tension with Russia, has made stocks cheap, Dover said by email. The Borsa Istanbul 100 Index's price-to-earnings ratio will likely drop to 7.79 times in 2018, which would be the lowest since 2009, according to estimates compiled by Bloomberg.
"Many of the factors that originally attracted investors to the asset class have come back into play," said Dover, who oversees about $80 billion for Franklin Templeton Investment's emerging-markets group. "Even in regions that are still going through adjustment and rebalancing, we are seeing improved visibility and increasing signs of robust underlying economic conditions."
Before it's here, it's on the Bloomberg Terminal.
LEARN MORE