Biggest Wealth Fund Gets Reprieve as Recovery Curbs Withdrawals
By and
Norway revises up expected direct oil income by 27 percent

Budget still provides 0.5% impulse to economic growth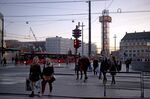 The Norwegian government cut expected withdrawals this year from its $930 billion wealth fund by 41 percent as an economic recovery gathers pace in western Europe's largest crude producer.
The center-right coalition aims to withdraw 71.5 billion kroner ($8.3 billion) from the fund this year, down from an original estimate of 121.2 billion kroner, according to a revised budget released in Oslo Thursday. The structural oil-corrected deficit, or the amount of oil cash Norway will spend, will be cut by almost 5 billion kroner to 220.9 billion kroner.

That amounts to 7.7 percent of mainland gross domestic product, down from 7.9 percent earlier. The government is able to cut withdrawals from the fund since it now sees direct oil revenue from production and taxes a full 40.9 billion kroner higher than earlier amid a recovery in oil prices and rising output.
While the use of oil money is reduced, "fiscal policy nevertheless gives a significant boost to aggregate demand," Finance Minister Siv Jensen said in a statement. "That pushes up economic activity and helps reduce unemployment."
The fiscal impulse this year of the budget will be 0.5 percent. The oil-corrected deficit has widened from about 6 percent of GDP in 2014, when a plunge in crude prices triggered a downturn in the oil industry that the economy is still struggling to overcome. 
The government now predicts that mainland growth will accelerate to 2.4 percent next year from 1.6 percent this year and that unemployment will be 4.3 percent this year and 4.1 percent next year. Oil prices will average 444 kroner ($51.7) per barrel this year, up from 379 kroner last year, the government estimates.

The planned spending of oil wealth in this year's budget falls in line with the government's proposal to lower the self-imposed fiscal spending rule to 3 percent of the oil fund, from 4 percent previously.
But the center-right government also found room to cut taxes further by 1.75 billion kroner, it announced in the budget.
Recent polls show that Prime Minister Erna Solberg's coalition, together with its support parties, the Liberals and the Christian Democrats, now falls short of reaching a majority in parliament. The Labor Party, together with the Center Party and either the Socialist Left Party or the Christian Democrats, would win a new majority.
Overall for 2016 and 2017, the fiscal impulse has been reduced to 1.2 percent from 1.4 percent, relative to the main budget last year.
The budget should be "deemed neutral" for key policy rates, said Marius Gonsholt Hov, an economist at Handelsbanken, in a note.
Before it's here, it's on the Bloomberg Terminal.
LEARN MORE