Merkel Riding High With Two State Elections Down, One to Go
By
Polls in North Rhine-Westphalia show CDU and SPD neck-and-neck

Christian Democrat bloc enjoying steady lead across Germany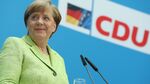 After two state-election wins in a row, Angela Merkel's Christian Democrats appear to be on a roll. Can they go one better on Sunday in the final electoral test before the national vote in September?
The latest polling suggests the Christian Democratic Union might just do it. Two surveys released late last week show Merkel's party neck-and-neck with Martin Schulz's Social Democrats, who've run the state of North Rhine-Westphalia, once the heart of Germany's iron and steel industry and the nation's most populous region, for all but five of the past 50 years. An Insa poll for Bild newspaper published Tuesday showed the Social Democrats still ahead, but with a smaller lead than a month earlier.

"The CDU's current regional momentum is remarkable," Carsten Nickel, deputy director of research at Teneo Intelligence in Brussels, said in a note to clients. "It defies convention in German politics, whereby the best a chancellor's party can hope for is to defend incumbent regional states rather than win additional ones." 
In the two preceding state elections in Saarland and Schleswig-Holstein, Merkel's party was running neck-and-neck or just behind the SPD in the polls during the campaign, only to outperform its biggest rival on polling day.
In Saarland in March, the CDU scored almost 4 percentage points more than the final poll had suggested. The Social Democrats came in about 2 points lower than forecast there and in Schleswig-Holstein last week.
It's all adding up to good news for Merkel nationally. The latest Germany-wide polls show the CDU between 5 and 8 points ahead of the SPD with the Bundestag election now just over four months away.

Indeed, all the latest surveys by seven major pollsters have the CDU and its Bavarian sister party, the Christian Social Union, within 1 point of Forsa's 36 percent support level, which has held steady since early April. Only one polling company has the SPD above 30 percent, a sign that the surge in support that followed Schulz's elevation to the party leadership in January has finally faded.
Before it's here, it's on the Bloomberg Terminal.
LEARN MORE