May Pledges to Boost U.K. Defense Spending in Tory Manifesto
By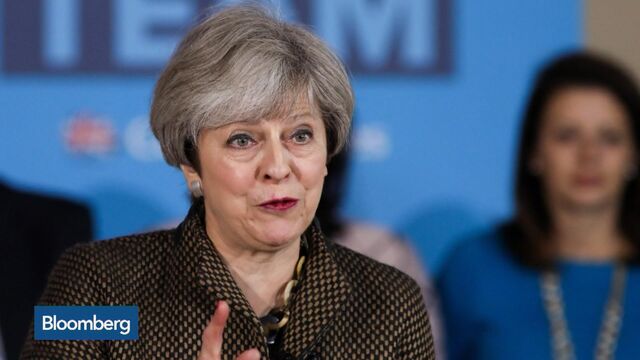 Prime Minister Theresa May has pledged to boost Britain's defense budget with above-inflation increases on top of meeting NATO's target, making security one of the focal points of her election campaign.
The Tories will commit to increase defense spending by at least 0.5 percentage points above the rate of inflation every year, as well as renewing the government's pledge to meet the North Atlantic Treaty Organization 2 percent of GDP spending target. The policy pledge will be part the Conservative manifesto, according to an emailed statement by the party.
"As prime minister I always have and always will put Britain's national security first," May said in the statement. "Under my leadership the Conservatives will ensure that the brave men and women of our Armed Forces have the equipment and resources they need to keep our country safe -- and that we meet our obligations to the world."
With less than a month to go before the general election, May's Tories are about 20 points ahead of the opposition Labour Party in the polls. While her commitment to Brexit has been the focus of her campaign so far, May –- a former Home Secretary -- is also keen to put security high up on the agenda as her party prepares to publish its manifesto.
Promising to focus on national security and military spending, May criticized Labour leader Jeremy Corbyn for "wavering" over his commitment to Britain's nuclear deterrent, NATO and his support for air strikes targeting Islamic State.
Labour said years of Conservative cuts to the defense budget had left the military under-resourced, and said the party was committed to meeting the 2 percent target set by NATO.
"The severe cuts imposed on the defense budget since 2010 have seen the Army shrink to 78,000, its smallest size since the Napoleonic Wars," Labour defense spokeswoman Nia Griffith said in an emailed statement. "Labour is committed to spending at least 2 percent of GDP on defense and ensuring that our armed forces have the necessary capabilities to fulfill the full range of our NATO obligations, and we will continue to press other members of the alliance to do the same."
Before it's here, it's on the Bloomberg Terminal.
LEARN MORE