ING's Growth Push Away From Home Helps Quarterly Profit Jump
By
Lending increase driven by expansion in international markets

Growth helped bank report 39% increase in underlying profit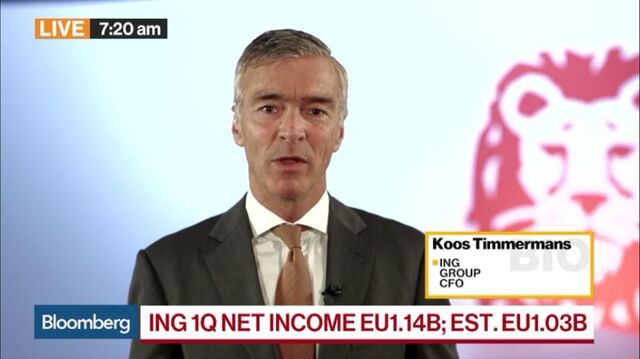 ING Groep NV Chief Executive Officer Ralph Hamers's international expansion is helping the biggest Dutch lender boost profits.
Net core lending increased by 5.7 billion euros ($6.2 billion) in the first quarter, as strong growth in nations including Germany more than offset a drop in Dutch consumer lending, the Amsterdam-based bank said in a statement on Wednesday. Loan growth and cost-cutting programs helped the bank report a 39 percent increase in underlying pretax profit, beating analyst estimates.
Hamers is investing in digital technology to reduce costs and dialing up lending to consumers and companies outside its home market to boost profits. While ING has emerged from a restructuring and government bailout with stronger capital buffers, banks across Europe are under pressure from record-low interest rates to lower expenses.
"ING beat expectations across the board," analysts at RBC Capital Markets wrote in a note to clients. Wholesale banking helped drive an increase in revenue, while net interest income was boosted by "strong volume growth in retail challenger" nations, what the bank calls the regions where it's seeking to grow.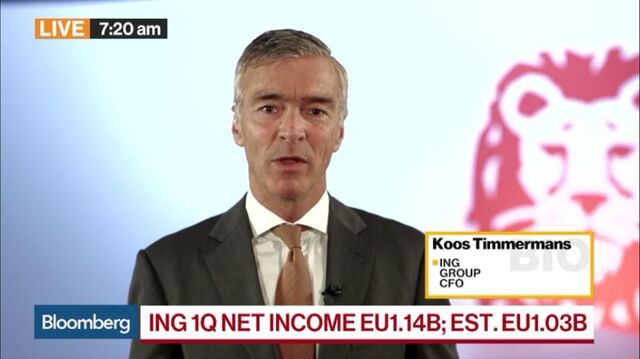 Underlying pretax profit rose to 1.65 billion euros from 1.19 billion euros a year earlier, driven by strong loan growth, cost cuts and higher revenue from market activities. That beat the 1.48 billion-euro average of seven analyst estimates compiled by Bloomberg. Financial Markets swung to a 98 million-euro pretax profit from a 2 million-euro loss in the first quarter of 2016, driven by "positive market conditions" for equities and rates trading operations.
Loan Growth
The shares rose 2.4 percent to 15.51 euros at 12:18 p.m. in Amsterdam. ING has gained 16 percent so far this year, outperforming a 11 percent gain in the Stoxx 600 Banks Index over the same period and giving the bank a market value of about 60 billion euros.
Despite the drop in Dutch lending, still ING's biggest business by total loans, the bank reported 8 percent loan growth in Germany and a 12 percent jump in a group of other nations that includes Australia, France, Italy and Spain. The cost of bad loans dropped by about half from a year earlier, while customer deposits increased by 10.8 billion euros, with growth across every segment except for Belgium.
Hamers said on a call with analysts he expects fee income to grow faster than revenue from lending as he looks to generate deeper relationships with clients, while also planing to expand the bank's loan book by as much as 4 percent each year.
Fees Jump
The bank reported a 28 percent increase in fee income at its retail challengers and growth markets business, the unit outside of its domestic market. Meanwhile, the bank's net interest margin, the difference between income from lending and the cost of funding, rose to 1.52 percent from 1.51 percent a year ago.
For fee income, "we set out the strategy three to four years ago and you actually see it now coming through numbers that are noticeable," Hamers said. "It's a confirmation of strategy."
The CEO's plan to invest in digital technology to drive revenue while holding costs steady also spurred the first-quarter jump in profits. While income rose, operating expenses fell by 1 percent from a year earlier to 2.61 billion euros. The total number of staff at the bank fell by 82 in the quarter, as cuts in its domestic markets were offset by hires in Germany and other countries where it's growing. 
ING is working through plans announced in October to spend 800 million euros on digital technology and pushing to find 900 million euros in annual savings over the next five years, in part through the elimination of as many as 7,000 jobs. The cost-saving program in the Netherlands was a key driver in the first-quarter earnings, helping underlying pretax profit at the unit increase to 693 million euros from 460 million euros a year earlier.
The firm's core Tier 1 ratio, a measure of financial strength key for dividends, rose to 14.5 percent from 14.2 percent at the end of December, well above its goal of 12.5 percent. Its leverage ratio, or capital as a fraction of total assets, was 4.5 percent, down from 4.8 percent at the end of December.
While that's helping the bank to stick to its plan to pay a rising dividend, new Chief Financial Officer Koos Timmermans warned the bank still needs regulatory clarity on its capital buffers as global authorities weigh new rules. Timmermans replaced Patrick Flynn in the role following the bank's annual shareholder meeting in Amsterdam on Monday.
"It's very difficult to make one specific capital target right now," Timmermans said in an interview with Bloomberg Television. "What we'd like to preserve, is that we can pay a longer term progressive dividend over time. You need to have the adequate buffers, but we need to get some of the regulatory uncertainty out of the way and that is not quite done yet."
Before it's here, it's on the Bloomberg Terminal.
LEARN MORE