Senate Intelligence Panel Subpoenas Flynn in Russia Probe
By
Former Trump national security adviser refused to give files

Flynn has previously sought immunity for this testimony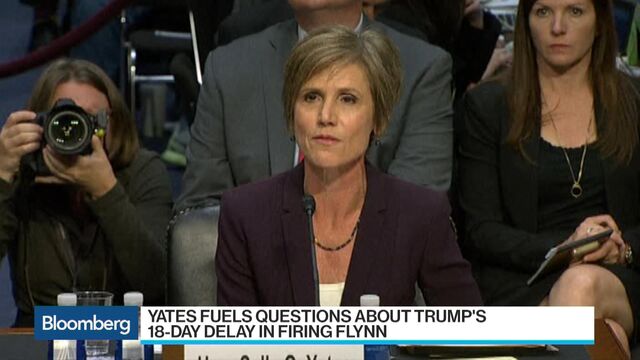 The Senate Intelligence Committee has subpoenaed documents from Michael Flynn, President Donald Trump's fired national security adviser, in a sign the bipartisan probe will continue full speed ahead one day after Trump terminated FBI Director James Comey.
Chairman Richard Burr, the North Carolina Republican, and top Democrat Mark Warner of Virginia announced they had issued the subpoena -- a rare move for the panel -- late Wednesday, saying Flynn had refused to comply via his lawyer with an April 28 request for documents in the investigation of Russian interference in last year's election.

Flynn has previously sought immunity, a request backed by Trump in a tweet. That request hasn't been granted.
"Mike Flynn should ask for immunity in that this is a witch hunt (excuse for big election loss), by media & Dems, of historic proportion!" Trump tweeted March 31.
Flynn was fired for misleading Vice President Mike Pence about the nature of his conversations with Russian Ambassador Sergey Kislyak, who was among the Russian diplomats who met today with Trump at the White House.
Burr has said he was troubled by the Comey firing but would continue to press ahead with his investigation wherever it leads. He and Warner have invited Comey to testify before the committee on May 16 in a closed session.
The committee had announced it was prepared to use subpoena power when it first began the bipartisan probe in January. It may not be the last one to be issued.
"I've said from the beginning that our intentions are to get information from all the individuals of interest, and I will go to whatever lengths I feel necessary," Burr said in a brief hallway interview at the Capitol, hours before Trump fired Comey Tuesday.
The announcement came as NBC News reported, citing unidentified sources, that the committee had also sought information relevant to the Russia investigation about Trump and his top aides from a Treasury Department financial intelligence unit that had imposed a $10 million civil penalty on the Trump Taj Mahal in 2015 for multiple violations of anti-money laundering laws. The committee wants any evidence Treasury has compiled and/or information about whether any people close to Russian President Vladimir Putin had invested in Trump properties, the report said.
Representative Jim Himes, a Connecticut Democrat who is a member of the House intelligence committee that is also investigating Russian meddling in the election, said access to such financial records is one of the reasons lawmakers have been clamoring for Trump to release his tax returns.
"There is nothing necessarily illegal about taking loans from the Russians or having them invest in your properties," Himes told MSNBC on Thursday. "But if you're going to be president of the United States or in any other position of public trust, the public does need to know how you're exposed, and who you owe what to, so they can evaluate your ability to make an impartial decision."
— With assistance by Jennifer Epstein
Before it's here, it's on the Bloomberg Terminal.
LEARN MORE