markets
Five Things You Need to Know to Start Your Day
Get caught up on what's moving markets.
By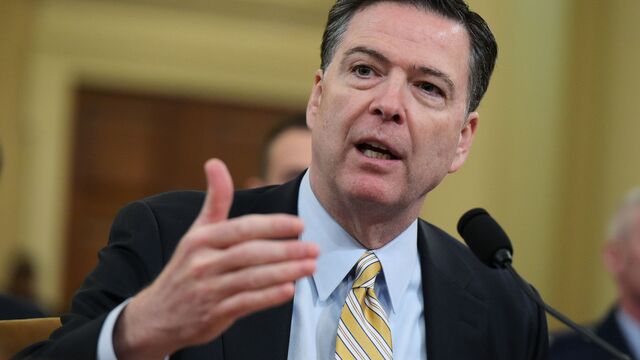 Want to receive this post in your inbox every morning? Sign up here
Donald Trump fires James Comey, Lloyd Blankfein wants to be free of the Volcker rule, and Vitol Group sounds a warning on oil. Here are some of the things people in markets are talking about today.
Comey fired
President Donald Trump abruptly fired FBI director James Comey on Tuesday evening, in a move that is likely to increase scrutiny from Democrats -- and some Republicans -- of alleged ties between the president's campaign and Russia. Senate Intelligence Committee Chairman Richard Burr, a Republican, said he is "troubled by the timing and reasoning of Director Comey's termination." Market reaction to the news has been subdued, although S&P 500 futures pointed to a slightly lower U.S. open. 
Volcker rule
Goldman Sachs Group Inc. Chief Executive Officer Lloyd Blankfein said in an interview on CNBC that U.S. banks should be freed from Volcker Rule restrictions that prevent them from taking certain types of principal risk. Blankfein's statements follow Goldman's disappointing first-quarter fixed-income trading results. In other U.S. regulatory news, the president's newest Wall Street watchdog has managed to avoid Senate ethics committee scrutiny, in a highly unusual personnel move. 
Qatar's Deutsche stake 
Qatar's royal family asked Germany's financial regulator for permission to boost its stake in Deutsche Bank AG to more than 10 percent, according to people with knowledge of the matter. Should the increase take place, they would become the bank's largest shareholder, ahead of Chinese conglomerate HNA Group which holds just less than 10 percent of the lender. Shares in Deutsche, which rallied on the news, were trading 0.4 percent higher at 5:41 a.m. Eastern Time. Dutch lender ING Groep NV reported a 39 percent increase in underlying pretax profit for the first quarter this morning, beating analysts' estimates. 
Markets quiet
Overnight, the MSCI Asia Pacific Index climbed 0.2 percent, while Japan's Topix index closed 0.2 percent higher with Seoul's Kospi Index falling 1 percent following Moon Jae-in's victory in the country's election. In Europe, the Stoxx 600 Index was 0.1 percent lower at 5:55 a.m. after the region's benchmark gauge reached its highest level since August 2015 yesterday. 
Oil warning
The world's biggest independent oil trader says OPEC's quest to increase prices through production cuts could be in vain. Vitol Group warned that demand is not increasing as expected, while U.S. shale output is growing faster than predicted. In the market this morning, a barrel of West Texas Intermediate for June delivery was 45 cents higher at $46.33, after industry data showed U.S. stockpiles falling for a fifth week.
What we've been reading 
This is what's caught our eye over the last 24 hours.
Before it's here, it's on the Bloomberg Terminal.
LEARN MORE