markets
Day One for Korea's New President Sees Stocks, Won in Retreat
Bloomberg News
Kospi knocked from record as North Korea tips nuclear test

Bullish investors expect corporate reform from new leader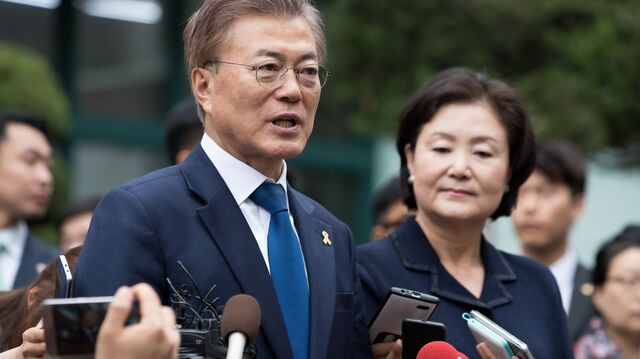 South Korean assets greeted the country's new president cautiously, with stocks, bonds and the currency falling as investors shifted focus to the challenges ahead.
The Kospi index dropped the most since March as North Korea reiterating its pledge to push forward with another nuclear test showed Moon Jae-in, the victor in Tuesday's presidential vote, is unlikely to get a honeymoon. While Citigroup Inc. to Morgan Stanley are betting on further upside for South Korea's record-setting stocks, analysts and investors are seeking more from Moon, who ran on a platform of corporate reform and rapprochement with North Korea.
"Markets will take this on the chin," said James Soutter, who helps manage the equivalent of about $500 million at K2 Asset Management in Melbourne, referring to the election. "Rumblings out of North Korea on further nuclear tests should have a bigger influence on markets than the election."

While Korean technology shares rallied on bets Moon will bolster the sector as a way of delivering more jobs, the Kospi spiked lower, declining 1 percent Wednesday -- the most since March 3 -- as utilities and banks paced losses. Markets in Seoul were closed for the election Tuesday, so the drop came after a 2.3 percent surge in the Kospi on Monday, its best day since September 2015.
Read more here about the challenges facing the new president, who's the son of North Korean refugees and represents a left-leaning party.
Markets in South Korea have learned to shrug off a lot of North Korea's saber rattling, but the entry of Donald Trump into the equation has raised the stakes. The U.S. is deploying a missile defense system in South Korea, an initiative that has angered Pyongyang and its main ally, China. At the same time, Moon inherits an economy predicted to expand this year at the slowest pace since 2012.
The vote removes a lot of the political uncertainty associated with South Korea -- former president Park Geun-hye was ousted amid a corruption probe in March -- which should give the Kospi's rally more oxygen, according to analysts from Citi and Jefferies Group.
"I wouldn't be surprised to see a pullback in the market in the way that you buy a rumor, sell the news," said Nader Naeimi, head of a dynamic investment fund at AMP Capital Investors in Sydney. "But deep down underneath that I think that the election bodes really well for Korean stocks."
Cheap valuations are one of the main lures to South Korean shares -- read more.
Equities reacted more modestly after the past three Korean presidential elections:

Companies expected to benefit from Moon's win jumped Wednesday, with shares of Shinwon Corp. climbing as much as 30 percent in Seoul. The clothing manufacturer has factories in the Kaesong industrial region, a joint economic venture between the two Koreas.
The Kospi is ready to "blow off" now the election is done, said Sean Darby, chief global equity strategist in Hong Kong at Jefferies, which is modestly bullish on South Korea within its global asset allocation.
Neither "the economic uncertainty caused by the North Korean geopolitical tensions, nor the impeachment of former President Park Geun-hye has deterred investors," Darby said in a note. "The combination of an improving export picture, sanguine inflation, a large current account surplus to GDP and inexpensive valuations has tipped investors towards Korean equities."
Options volume on the broader Kospi 200 Index surged to a five-year high, with May 295-won puts the most-traded contracts. The gauge ended Wednesday down 1.2 percent.
Meanwhile, the won retreated 0.4 percent from Monday's close. While well off a nadir reached in December, the increase in North Korean tensions over the past two months has weighed on the currency. Benchmark bonds continued their decline, with 10-year yields up five basis points to 2.30 percent, edging up toward a 15-month high reached in March.

Goldman Sachs Group Inc. predicts two main policy outcomes from the election: tax hikes and improvement in corporate governance. Reforming South Korea's chaebols -- the opaque family-run conglomerates that drove the country's post-Korean war recovery -- is a key concern among foreign investors, who have long complained about their lack of transparency.
But Moon, who said Wednesday that close ties between the chaebols and the government will disappear, may face some push back in these efforts, said Goohoon Kwon, Goldman's senior Asia economist.
Who Moon picks for his new team will be key, as well as his approach to corporate reform and foreign policy, say Morgan Stanley analysts Joon Seok and Deyi Tan.
On equities "positives have played out in the near term, but the medium term has more upside than downside risk," they wrote in a report, recommending technology shares and dividend stocks. "Time may be needed for key policies to be implemented but macro policies should be neutral, while chaebol reform presents a positive opportunity if well carried out."
— With assistance by Emma O'Brien, Livia Yap, Narae Kim, Kyunghee Park, Yumi Teso, Adrian Leung, and Hannah Dormido
Before it's here, it's on the Bloomberg Terminal.
LEARN MORE