Survey
Business Travelers Name Their Pet Peeves. We Name the Cures
Spotty airport Wi-Fi, gabby passengers, bad grab-and-go snacks, and what to do about it.
By and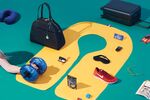 "My biggest issue is sticking to a workout routine. Urban hotels have limited fitness options, and it's impossible to tell the quality of equipment from websites. Also, I never check a suitcase, so fitting in extra workout shoes takes up valuable packing space." —Angela Berardino, chief strategy and integration officer, Turner Inc., Denver

Nike Free RN Flyknit sneakers ($120; store.nike.com) are stylish enough to wear on a plane, but they're practically weightless and have pliable soles, so they'll conform to tight spaces in your carry-on. AquaBells ($47; aquabells.com), portable dumbbells that you fill with water from your bathroom sink, won't hog space either. Just drain them after you're done venting your anger at that demanding client.

"The assigned seat on my flight isn't an invitation to a two-person networking event. I don't care what you sell, who you just pitched, or where you're heading." —Jennifer Hardy, founder, Inhabit Interiors, Baltimore

Tune out annoying neighbors with Happy Ears earplugs ($11; shop.happyears.co), which muffle—rather than block—noise so you can still hear the flight attendant ask if you want pretzels. For something more first class, try the Bluetooth-enabled Here One wireless smart earbuds ($300; brookstone.com). They use "smart noise filters" and do double duty as earbuds for music and phone calls. If your seatmate still doesn't get the point, slip on a Slip silk sleep mask ($45; slipsilkpillowcase.com) and say, "Don't wake me for dinner."

"Downtime in an airport is time to get work done, but some airports have Wi-Fi that doesn't work, others have paid Wi-Fi that rarely works, and, even worse, some don't have any internet. Come on, it's 2017!" —Kean Graham, founder and chief executive officer, MonetizeMore, Victoria, B.C.

A mobile hotspot lets you create a private Wi-Fi network. The well-regarded Skyroam ($100; amazon.com) provides unlimited data worldwide for $8 per day, a rate likely cheaper than you'd pay burning through international data on your carrier's plan.

"I don't enjoy packing all of those electrical outlet converters." —Steve Johnson, vice president for product development, Vectorworks Inc., Columbia, Md.

The Flight 001 4-in-1 universal travel adapter ($25; flight001.com; above in red) will keep you charged in 150 countries. Or try the Loop adapter (starting at $18; amazon.com); its built-in USB port lets you leave your charger at home.

"I hate when travelers try to save on baggage fees and carry on their Steinway-size roller bags. Even though they know they're breaking the rules, they have the nerve to hassle the flight attendant about it." —Joelle Casteix, author, Orange County, Calif.

Don't be part of the problem. Away's 21.7-inch hardshell suitcase is constructed from scratch-resistant polycarbonate, has four 360-degree wheels, and comes with a built-in USB charger ($225; awaytravel.com). If you're just getting out of town for a night, try the O.G. from Lo & Sons: The interior shoe pocket will prevent your footwear from dirtying your clothes ($295; loandsons.com).

"I hate not being able to eat healthy. Items marketed as healthy aren't. Grab-and-go salads only come with chemical-filled dressings." —Emily Lyons, president and founder, Femme Fatale Media, Toronto

Go natural. Snack on Pulse roasted chickpeas ($11 for three 2-ounce packs; pulseroastedchickpeas.com) or Enlightened roasted broad bean crisps ($60 for a box of 48 1-oz. bags; eatenlightened.com), both of which are gluten-free and high in protein and fiber. To satisfy your sweet tooth, pack an RxBar ($65 for a box of 30; rxbar.com). It only has a few ingredients, which are listed in big, bold letters on the front of the packaging.
Before it's here, it's on the Bloomberg Terminal.
LEARN MORE