Budget Battle Looms for South Korea's New President
By and
Views split on whether parliament will approve Moon's plan

Economic fallout from missile shield may be hard to clean up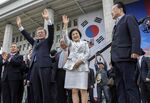 Newly elected President Moon Jae-in wants to spend trillions of won creating jobs in South Korea, and to take a fresh look at the deployment of a controversial missile-defense shield that's angered China.
It looks like he's in for a fight on both counts.
Only six of 12 economists polled by Bloomberg are confident that Moon's plan for a 10 trillion won ($8.8 billion) supplementary budget will get through parliament, where his Democratic Party holds just 40 percent of seats.
On the question of the Thaad missile shield, respondents to the survey indicated it would be very difficult to remove it now, with the American hardware already on the ground in South Korea and tensions with North Korea running uncomfortably high.
"Moon will be sure to push for the extra spending, but there will be difficulties because it doesn't satisfy the necessary legal conditions, such as cases of a natural disaster or economic recession," said Stephen Lee, an economist for Meritz Securities Co. in Seoul. "Exports are doing well, and with sentiment improving, consumption is also likely to have hit a bottom."
South Korea's national fiscal law stipulates that a supplementary budget is allowable in times of war, natural disaster, or when there are significant problems in the economy, such as mass unemployment.
To be sure, there was an 11 trillion won supplementary budget last year under the Park administration, to mitigate the financial and job-market impact from a massive corporate restructuring in the shipping and shipbuilding industries. There were also extra spending packages in 2013 and 2015.
The jobless rate for those aged 15 to 29 was 11.2 percent in April, rising 0.3 percentage point from a year earlier and more than double the rate for the whole working population, data released Thursday show.
Opposing Views
The two main contenders who stood against Moon, Hong Joon-pyo from the Liberty Korea Party and Ahn Cheol-soo from the People's Party, didn't take a stand on an supplementary budget during the campaign.
In a debate held among their policy advisers, Ahn's adviser said an extra budget could only be a temporary measure and would put pressure on the government's fiscal balance while Hong's adviser stressed that the focus should be on solving structural problems.
Ironically, it could be the difficulty in placating China's ire over Thaad that bolsters Moon's case for a getting his extra spending approved.
In the absence of strong domestic demand, exports have been driving South Korean economic growth and supporting corporate investment this year. Yet China's retaliation over Thaad remains a threat, given its status as the nation's biggest trading partner.
The tourism industry is already hurting, with the number of Chinese visitors dropping by 40 percent in March from a year earlier, after Beijing put a halt to outbound package trips to its neighbor. This in turn slowed Korean services industry growth, which was the lowest since 2009 in the first quarter.
Moon's Speech
In a speech to the public on Wednesday, Moon said he would focus on jobs as promised during the campaign, and that he would also "sincerely" discuss the issue of deploying Thaad.
"Although Moon is considered conciliatory towards China and North Korea in general, I believe Thaad's deployment is a national security issue and is unlikely to be reversed," said Trinh Nguyen, a senior economist at Natixis SA in Hong Kong. Moon is likely to focus on other mandates rather than "squander" his political capital trying to reverse the missile shield, Nguyen said.
Park Chong-hoon, the head of Korean economic research at Standard Chartered Bank in Seoul, said Moon will try to accommodate China more than the other candidates would have, but that Thaad would be installed and Chinese retaliation would continue.
Economists were taking a wait-and-see approach before revising their growth projections for gross domestic product. Some noted that Moon's call for active fiscal policy may support Korea's growth from next year.
The Bank of Korea projects GDP expansion of to 2.6 percent this year. The median of estimates compiled by Bloomberg is for 2.5 percent growth.
"The election of President Moon is unlikely to affect real economic indicators, however, consumer and business confidence may receive a boost now that the political outlook is clearer," said Emily Dabbs, an economist with Moody's Analytics in Sydney.
Before it's here, it's on the Bloomberg Terminal.
LEARN MORE