Brexit Gives the BOE Even More Reason to Delay a Rate Hike
By
U.K. economic growth slowed to 0.3% in the first quarter

Some officials worried about the pickup in inflation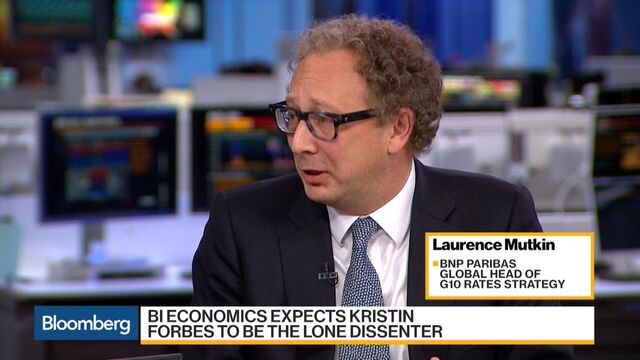 Three months ago, Mark Carney found some additional slack in the economy, giving the Bank of England more leeway to keep a dovish stance on policy even as it raised forecasts for both growth and inflation.
Now, in the latest quarterly Inflation Report, he can point to more concrete reasons for caution, including a first-quarter slowdown in economic growth and the pressure on consumers from rising prices. While some policy makers have begun to sound the alarm on inflation, the downside risks from Brexit and the imminent U.K. election will probably be enough to keep the BOE from rushing into an interest-rate increase. 
Click here to set a reminder to watch Mark Carney's press conference from 12:30 p.m. London time

That view was reinforced by industrial production data on Thursday that showed the economy lost some momentum in the first quarter. Separately, the European Commission raised its forecast for U.K. growth but warned of a fallout from Brexit uncertainty and faster inflation.
For households, the pickup in prices from the weaker pound is putting the pinch on pockets, and retail sales are falling. Consumers are already saving less, meaning they may not have much to fall back on as real incomes start to fall.
On top of the weaker numbers, the bitter start to Brexit talks between the U.K. and the European Union may undermine confidence among consumers and companies, with further fallout on domestic demand. Carney himself highlighted the Brexit risk in February, saying there will be "twists and turns along the way." One of those was Prime Minister Theresa May's surprise decision to hold a general election on June 8.

"This is isn't exactly the environment where you would expect either a consumption or investment boom," Sushil Wadhwani, a former BOE policy maker, said this week at an event organized by Fathom Consulting in London. "And you've got this huge uncertainty about how Brexit will pan out and what the deal will be. Watch and wait is the most tempting route."
Follow our TOPLive blog on the BOE rate decision and briefing here 
TLIV 58A15F7917D80030
As faster inflation squeezes workers, the lowest unemployment in 12 years may help them negotiate higher wages, increasing underlying price pressures. That prospect led policy maker Kristin Forbes to vote for a rate move in March, and since then Michael Saunders has signaled he shares her concern.

While inflation is accelerating faster than predicted, the question for the BOE is what this means for the medium-term outlook. At this point the pound has stopped falling, and is actually up this year on a trade-weighted basis.

Data from the Office for National Statistics on Thursday showed trade contributed to the economy's slowdown in the first quarter as exports fell and imports climbed. Separate figures showed industrial production barely grew in the first quarter after it dropped more than forecast in March. The pound fell against the dollar after the reports were released and was at $1.2906 as of 10:15 a.m. London time.
Given all the moving parts, economists see no change in policy until at least mid-2018. At Bloomberg Intelligence, economists Dan Hanson and Jamie Murray say rates won't start to go up until 2019, after the U.K. has formally left the EU.

"The economy is entering uncharted waters and remains in flux," the BI analysts said in a note on Wednesday. "While that in itself isn't necessarily a reason for policy inertia, the approaching transition is unlikely to create an environment conducive to a tighter policy stance for some time."
— With assistance by Richard Jones, Harumi Ichikura, and Scott Hamilton
Before it's here, it's on the Bloomberg Terminal.
LEARN MORE