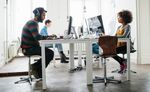 Black Americans are jumping back into the job market faster than any other race or ethnicity in this economic recovery.  
The share of black workers at work or seeking employment touched 62.5 percent in April, the highest level since 2010, a recovery from a more than the three-decade low of 60.3 percent at the end of 2013. Even with that rebound, black labor force participation remains below the overall rate of 62.9 percent.

"This is evidence of the last hired, first fired phenomenon," said Valerie Wilson, an economist at the Economic Policy Institute in Washington, DC. "As the recovery continues on you start to see the biggest improvements for the groups that were hit the hardest."



The unemployment rate among black Americans in the U.S. remains the highest among the races, at 7.9 percent in April, just above its pre-recession low. That's followed by the rate for Hispanics, at 5.2 percent, whites at 3.8 percent and Asians at 3.2 percent.
The economic recovery has "finally started reaching people of color in some of the hardest-hit communities," according to the National Urban League's latest annual report on the State of Black America, which tracks inequality in unemployment.
While some of the worst-off cities for joblessness inequality in 2016 rose to the top in this year's index, such as the Dallas and San Antonio metro areas, others were stuck in the bottom, like the Milwaukee and Toledo, Ohio metro areas. The discrepancy highlights differences between areas where the recovery continues to build steam and the places where structural or systemic problems perpetuate high unemployment in black communities, according to the study.
The decline of middle-skill employment and uptrend in low- and high-skill jobs could be among those structural issues. Black people are less likely to graduate from college and bachelor's degrees have become more necessary for high-skill jobs, so job polarization has affected black workers in the U.S. more than their white counterparts, research from the Kansas City Fed shows.

Another factor potentially dragging on black employment prospects: criminal records have long been a disproportionate disadvantage to black Americans in their job search, as they are incarcerated in state prisons at more than five times the rate of whites. 

On the other hand, a shortage of skilled and experienced workers could also be prompting employees to be more lenient in their hiring. That's a hopeful sign that black unemployment could continue to drop, and participation rates across the board may be headed for improvement.
Before it's here, it's on the Bloomberg Terminal.
LEARN MORE