Barclays May Need 18 Months to Finish Turnaround, CEO Says
By and
Staley sees bank at 11% return on equity in six to 18 months

Bank will invest more in technology once cost target achieved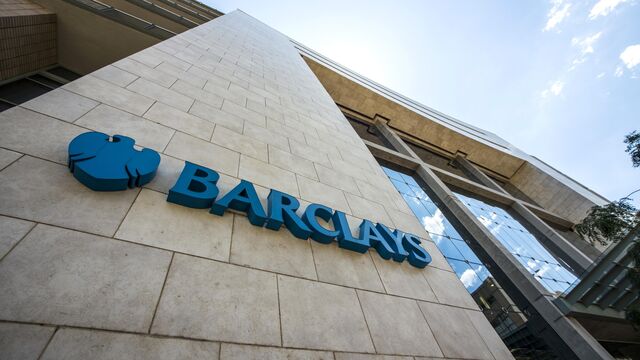 Barclays Plc's Jes Staley said he needs another six to 18 months before the bank can generate an acceptable return for investors, spelling out for the first time how long his strategy should take to bear fruit.
"The group's statutory return on equity is 9 percent, and we want to get that to 11 percent -- I think we have a very good chance of doing that within the next six to 18 months," the chief executive officer said in a Bloomberg Television interview on Wednesday. Barclays's cost of equity, the minimum return investors demand, is about 10 percent, he said.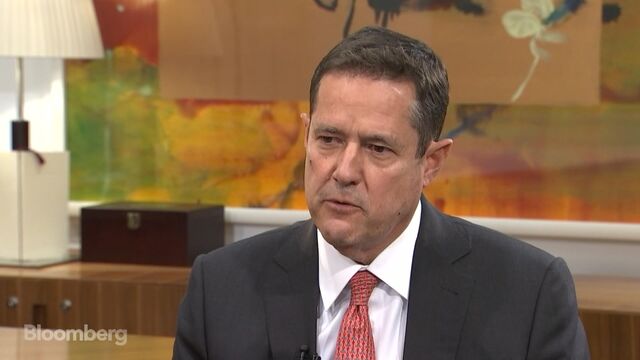 Staley, 60, has reshaped the bank dramatically since taking over in late 2015, opting to sell down a stake in its Africa business and shutter offices across Asia and Europe to free up capital to support a trimmed-down investment bank. Still, the shares have fallen during his tenure as investors remain wary of weak profitability at the securities unit, looming misconduct fines and a potential U.K. economic slowdown after Brexit. 
Staley unveiled a new strategy in March last year that aimed to achieve return, cost and capital targets within "a reasonable time frame," without committing to a specific date. In the interview the CEO also warned the firm's ability to cut costs further is limited by the need to upgrade its aging technology systems.
"There are two things that Jes can actually control -- costs and capital -- but the key missing links are revenue and risk, which depend massively on the U.K. economy and the investment bank, especially in the U.S.," said Chirantan Barua, an analyst at Sanford C. Bernstein. "Unfortunately both of those look like headwinds to me, in which case 11 percent RoTE won't be achievable anytime in the next two to three years, let along the next six to 18 months."
The CEO's calculation of the bank's 9 percent return on tangible equity excluded an $844 million impairment from its Africa business. With that loss, the measure fell to 1.8 percent in the first quarter.
Staley said sources of revenue growth include figuring out ways to sell customer data gleaned from processing payment transactions and increasing its role as an aggregator of tech-driven financial products, without elaborating. He also said that economic growth in the U.S. would likely boost the trading performance of banks across the board.
Antique Windows
Barclays is close to achieving its target for operating costs of no more than 60 percent of revenue, compared with 62 percent in the first quarter. Once the bank has reached its goal, Staley said he'll pass up the chance to cut expenses further in favor of investing in technology, especially an upgrade of the bank's antiquated computers.
"Our systems are Windows XP, and the CEO of Microsoft told me the other day he doesn't think people know about Windows XP any more, they've stopped programming for that," Staley said in the interview. "By the end of this year we will have 30,000 employees on Office 365, and the whole bank by July next year. That's the sort of investment we have to make to get Barclays on its front foot."
Staley also faces pressure to boost the dividend. The bank cut its shareholder payout in half last year to speed up sales of unwanted assets housed in its "non-core" unit.
"We know we have obligation to get it back to more normalized levels for shareholders," Staley said, without committing to a time frame. "It will be a topic of discussion for the board, in consultation with regulators."
'Not Concerned'
The CEO said he sees some boost in profitability coming from the firm's investment bank using its capital more efficiently. He brushed off criticism of its first-quarter performance in trading, where it lagged behind most Wall Street and European rivals, helping drive shares down the most in six months.
"I am not concerned," he said. "We beat expectations in every part of the investment bank in the previous four quarters, this is the first time in my term as CEO that an important desk missed estimates."
Before it's here, it's on the Bloomberg Terminal.
LEARN MORE