Barclays CEO Says London Financial Firms Can Work Around Brexit
By and
Staley says 'creative' banks can remain source of EU capital

Bank has 'very constructive' talks with U.K. Prime Minster May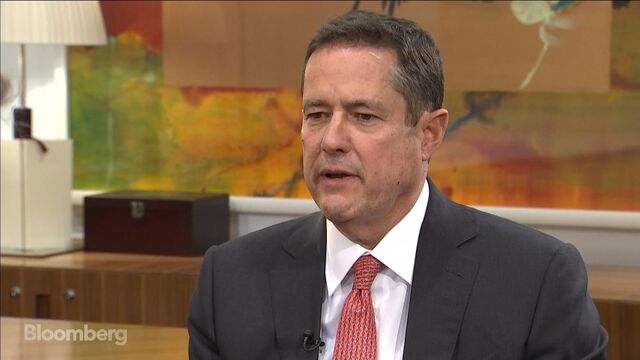 Follow @Brexit for all the latest news, and sign up to our daily Brexit Bulletin newsletter.
Barclays Plc Chief Executive Officer Jes Staley said London's financial sector is inventive enough to find a way around Brexit and remain integral to the European Union's economy, provided politicians don't erect walls to shut out the U.K.
"So long as those barriers are not put up, there will be workarounds around Brexit so that London will remain a very important source of capital for continental Europe," Staley said in a Bloomberg Television interview on Wednesday. "There will be uncertainty, but having been in the financial industry as long as I have, it's amazing how creative it can be."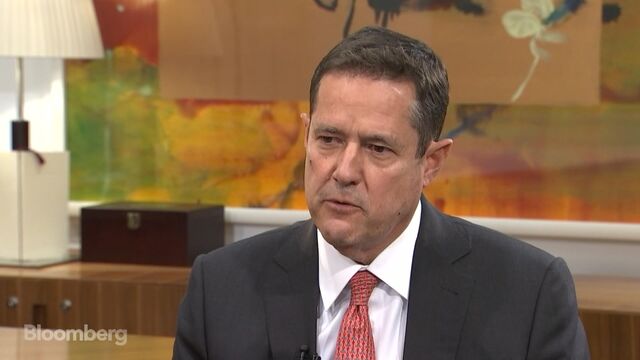 Staley, 60, has consistently been among the most optimistic of bank executives on the impact Brexit will have on financial firms' ability to service EU clients. While he said Brexit talks could lead to decisions that restrict the flow of capital, he's encouraged by increased cooperation since the financial crisis between major nations on avoiding such barriers.
Banks with European headquarters in the U.K. are increasingly resigned to the likelihood they will lose the automatic right to sell services freely around the region from London, known as passporting, after continental politicians toughened their position on Brexit in the past month. EU chief negotiator Michel Barnier ruled out any immediate negotiations on a longer transition period, banks' key demand, and diplomats have voted to exclude financial services from the main future trade agreement post-Brexit.
Dublin Expansion
Barclays has settled on Dublin for its expanded EU base, but is expecting to have to add only about 150 staff there, people with knowledge of its plans said earlier this year. That compares with HSBC Holdings Plc, which is planning to move 1,000 investment bankers to Paris, as well as JPMorgan Chase & Co. and Deutsche Bank AG, which have each warned as many as 4,000 of their U.K.-based jobs are at risk of being moved.
"We have a bank subsidiary in Ireland that is part of the EU, we have 1,200 staff in continental Europe from Milan to Paris to Frankfurt to Madrid," Staley said in the interview. "Continuing to engage is important for us. The EU is going to require us to set up structures that make it more robust and more within the fold of Europe, and that's OK."

Barclays may be hurt by an economic slowdown in the U.K. as corporations put off investment and people delay buying houses or starting businesses, the CEO has said previously. He praised U.K. Prime Minister Theresa May's "openness," "candor" and exchange of ideas with his bank and the financial services industry in general around Brexit.
"The level of dialogue with the Prime Minister's office, with her government, with the chancellor, with the regulators has really been quite something; there's a lot of listening on both sides," he said. "We enjoy a very, very constructive dialogue with the British government."
Staley declined to comment on what outcome in the June British election would be best for his bank. May's Conservatives are about 20 points ahead of Jeremy Corbyn's Labour Party in recent opinion polls.
"I don't want to insert myself as an American into British politics," he said. "Obviously a strong economy is good for Barclays and certainty helps corporate investment, which is a fuel for growth."
Before it's here, it's on the Bloomberg Terminal.
LEARN MORE