Balance of Power: Comey Shocker
By and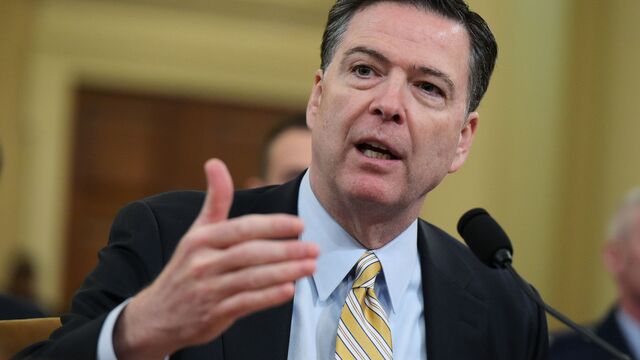 Sign up to receive the Balance of Power newsletter in your inbox, and follow Bloomberg Politics on Twitter and Facebook for more.
The Russia investigations have been Donald Trump's biggest obsession since taking office, judging by his Twitter feed. Now the U.S. president has done something that will alter the course of those investigations immeasurably: fire the guy in charge.
Trump's stunning decision to dismiss FBI Director James Comey has left him open to charges that he interfered with an active legal probe into his own campaign. Democrats cried coverup. Even several top Republicans were aghast at Trump's abrupt move. 
The White House says Trump was only following the advice of a top Justice Department official who said Comey must go for mishandling the Hillary Clinton email matter. But in less than four months, Trump has dismissed an acting attorney general who defied him on the travel ban and an FBI chief pursuing an investigation he despised.
With Republicans controlling Congress, Trump is sure to get whoever he wants atop the FBI. So what does that mean for how vigorously the investigation will continue?
One clue might be in this Trump tweet from just two days ago: "The Russia-Trump collusion story is a total hoax, when will this taxpayer funded charade end?"



Global Headlines

Lavrov to meet Trump | Comey's firing puts the spotlight on Trump's Oval Office meeting today with Russian Foreign Minister Sergei Lavrov. The face-to-face is a prelude to Trump's planned encounter with President Vladimir Putin this summer and comes as Russia seeks backing for Syrian safe zones -- the latest attempt to end the six-year civil war.
Angering an ally | Meanwhile, Trump is starting to assert himself more and more abroad. The White House yesterday said the U.S. would arm Syrian Kurds in the fight against Islamic State. The decision angered Turkey, who says they are terrorists. That follows a request by Trump's top military advisers for as many as 5,000 more troops in Afghanistan to help break a stalemate between Afghan soldiers and Taliban militants. 

China pushes its own vision of globalization | President Xi Jinping aims to use next week's summit of 28 leaders from around the world to push his vision of a China-led economic order. The preparations for his "Belt and Road" trade route summit aren't all going smoothly though. Beijing-based diplomats complain that they haven't had time to vet a proposed communique.

Kremlin to copy Trump's playbook | The Kremlin can no longer solely rely on its control of TV to achieve ballot box success as a new generation of voters embraces social media. Enter Sergei Kiriyenko. The man hired to deliver Putin a crushing re-election next March wants to emulate Trump's use of microtargeting -- the mix of data mining and psychological profiling to deliver finely tuned ads.
Brazil braces for a showdown | One of the most popular leaders in Brazilian history will today testify before Sergio Moro, the crusading lead jurist in the country's sprawling corruption probe. Former President Luiz Inacio Lula da Silva is charged with bribe-taking, influence trafficking and money-laundering. He is also leading the opinion polls before next year's presidential election. Moro, who has become a folk hero in Brazil, is second.
 "Boy jobs and girl jobs" | We learned something new about British Prime Minister Theresa May last night. She makes her husband take out the trash -- and then she makes him talk about it in front of five million people on prime-time TV. "There's boy jobs and girl jobs you see," she said in a joint interview with her husband, Philip. She also said she likes her reputation for wearing flamboyant shoes -- because it means she has to keep buying more.

And finally... South Korea's new President, Moon Jae-in, outperformed his conservative rival across most of the country in Monday's election. He did best in places with younger voters like Seoul, in his party's traditional southwest base and in cities near the North Korea border. Moon wants to push for peace with Pyongyang and get tough on big business after nearly a decade of conservative rule.

Before it's here, it's on the Bloomberg Terminal.
LEARN MORE