Japan May Rekindle Its Love Affair With French Bonds
By
Japan investors attracted by yield with political risk lowered

French credit rating, lower FX hedge costs also a factor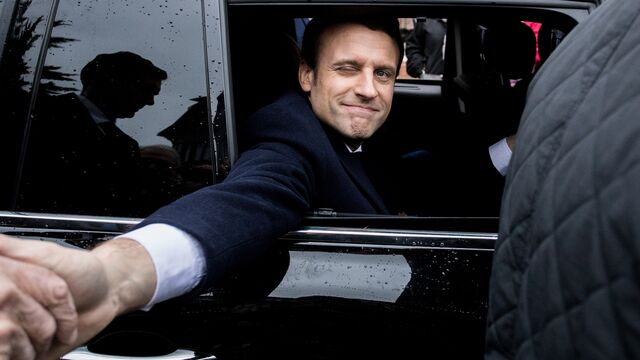 Like any good love affair, it's had its ups and downs.
Having sold French sovereign debt for the fifth month in a row in March, Japanese investors may start to rekindle their interest, according to fund managers interviewed by Bloomberg including Nissay Asset Management and Amundi Asset Management. Emmanuel Macron's victory in Sunday's election has removed the major political risk factor and yields are attractive, they say.
"With the key risk factor in Europe out of the way, it will be easier for investors like ourselves to consider overweighting France," said Eiichiro Miura, chief portfolio manager at Nissay in Tokyo. Life insurers and pension funds could start directing more money into European bond and credit markets, he said. The firm, with $80 billion under management, is a unit of life insurer Nippon Life Insurance Co.
Japan's investors sold a net 942.8 billion yen ($8.3 billion) of French sovereign bonds in March, after dumping a record amount in the prior month. The notes had fallen in the first two months of the year on positive poll figures from far-right candidate Marine Le Pen. Now, with the election out of the way, France's 10-year government bond yield of 0.85 percent compares favorably with the 0.04 percent yield available from equivalent Japanese securities, and the zero percent yield target of the Bank of Japan.

"Considering France's double A credit rating status and the spreads, there is some more room for Japanese investors to direct their funds into France," said Masaru Hamasaki, head of the strategy and economic research department at Amundi Asset Management in Tokyo. "France's sovereign credit default swap narrowed since the first round of the presidential election, but French bonds will remain attractive for Japanese investors."
The yield on France's 10-year notes has fallen 9 basis points since Macron won the first round of the country's presidential election on April 24.
More Elections
Political uncertainty persists in Europe, with France's parliamentary election coming up next month, an election in Germany in September and one in Italy expected by late May 2018. However, Japanese investors are likely to continue to search for yield in the region, faced with ultra-low interest rates at home and rising currency hedge costs for U.S. dollar-denominated bonds.
"The parliamentary election will be important for Macron and depending on the outcome, France could face political instability, but even in such a case, this is not seen leading to a major political crisis," said Shigeki Sakaki, chief strategist at Nomura Asset Management Co. in Tokyo. Nomura has assets under management of more than 47 trillion yen.
Still, some investors may wait to confirm the result of these elections before committing to invest.
"I don't think investors will be overly aggressive now to allocate their money into France at current price levels," said Hidenori Suezawa, chief bond strategist at SMBC Nikko Securities Inc. in Tokyo. "We need to see the outcome of the election in June to see whether or not the presidency of Macron will actually bring political stability."
Before it's here, it's on the Bloomberg Terminal.
LEARN MORE