markets
Ackman Says Secret Pershing Stake Up 30%, 2 Targets in View
By
Billionaire spoke on first-quarter call for public fund

Hedge fund evaluating two potential new activist targets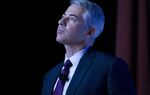 Activist investor Bill Ackman, reeling from a $4 billion loss on a controversial pharmaceutical investment, said his newest holding has soared since his Pershing Square funds bought a stake.
The investment, which he hasn't identified, has gained about 30 percent and already comprises about 5 percent of the hedge fund's capital, he said. The firm isn't yet required to disclose the name of the company "for regulatory reasons," Ackman told investors Wednesday.
"The only disappointment on our part is that we did not get enough of it before the stock really started to run," Ackman said on a call reviewing the first-quarter performance of his publicly traded fund, Pershing Square Holdings Ltd., which mirrors the holdings of his hedge fund Pershing Square Capital Management.
The position is one of two new investments Pershing Square made in the past four months. Ackman said the other, which comprised a 9 percent or 10 percent position for the fund, has already been sold.
Ackman's firm in March exited a high-profile investment in Valeant Pharmaceuticals International Inc., calling its effort at the drugmaker a "huge mistake" that cost $4 billion. Last year, Pershing Square exited investments in animal-health company Zoetis Inc. and longtime railroad holding Canadian Pacific Railway Ltd.
Ackman reiterated that the fund is evaluating two additional targets that may become "classic Pershing Square activist investments."
For more on Ackman's losing Valeant campaign, click here.
"These are both simple, predictable, free cash flow generative businesses" that aren't yet optimized either operationally or structurally, Ackman said. "It's not a certainty that we will make either investment, although I'd be surprised if we don't make at least one, based on the work that's been done to date."
High Quality
Ackman said in a Bloomberg TV interview on May 2 that the two potential targets are "large-cap companies, very high-quality businesses, they've both done very well over a long period of time. But we think they've underachieved their potential, they've not been optimized in terms of the way they're operated, and we think there are changes that could be made to make the businesses more valuable."
Ackman listed Pershing Square Holdings in London this month to attract more investors and reduce the shares' discount to net asset value on the Amsterdam exchange, where it began trading in 2014. He also started a share buyback, pointing out that investors can purchase the stock at about 15 percent below the value of the securities it holds.
Pershing Square typically buys large stakes in a handful of big companies and agitates for executives and directors to make changes to boost shareholder returns.
The New York-based investment firm owns stakes in industrial gas distributor Air Products & Chemicals Inc., chemical maker Platform Specialty Products Corp., and real estate group Howard Hughes Corp. Its food and restaurant holdings include burrito chain Chipotle Mexican Grill Inc., fast-food chain holding company Restaurant Brands International Inc., European frozen food group Nomad Foods Ltd. and snack-maker Mondelez International Inc.
Mondelez Succession
Pershing Square will take a "real interest" in any succession plans at Mondelez, Ackman said Wednesday, referring to an April Wall Street Journal report that the company had retained executive-search firm Heidrick & Struggles International Inc. to find candidates to eventually replace Chief Executive Officer Irene Rosenfeld.
Mondelez remains a "very attractive" investment whether the snack giant recruits new management to continue Rosenfeld's business progress, or ultimately considers a sale, Ackman said, referring to market speculation about packaged foods consolidation.
Ackman also has an ongoing short position against nutrition-products group Herbalife Ltd., which on Wednesday he again called a pyramid scheme. Pershing Square also is fighting with the U.S. government over its stake in bailed-out mortgage backers Fannie Mae and Freddie Mac.
While Pershing divested its stake in its second new investment, it might start buying again, Ackman said.
"There were business developments at the company that caused us to question our continued decision to hold the investment," Ackman said. "We've exited, and depending on those business developments we may enter again."
As for the new undisclosed holding, Ackman said he's stopped increasing that position -- for now.
"We still like it at the current share price, but not enough to add," he said.
(
Updates with Mondelez's leadership in 12th paragraph.
)
Before it's here, it's on the Bloomberg Terminal.
LEARN MORE