U.K.'s May Deploys Husband on TV as Corbyn Fires Up Socialists
By and
Mays discuss home life as premier puts herself center stage

Corbyn promises 'day of reckoning' for greedy bankers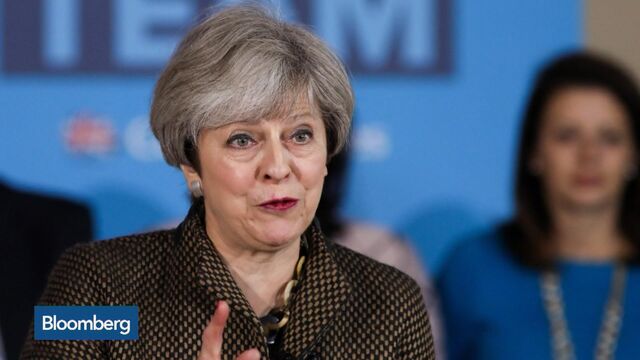 With a month to go before the U.K. votes for its next government, Prime Minister Theresa May set out to woo "middle England" on prime-time television, while her main rival Jeremy Corbyn rallied his socialist comrades in Britain's industrial heartlands. 
May's first joint interview with husband Philip was a chance for her to give voters a rarely seen softer side. The couple discussed May's taste in shoes, how they fell in love at university and disclosed that while she cooks, he takes out the trash.

"There's boy jobs and girl jobs you see," May announced on the sofa of "The One Show," a BBC evening program that regularly attracts 5 million viewers.
Earlier in the day in Trafford, northwest England, Corbyn launched his Labour Party's program for government with a blistering tirade against "greedy bankers" and heartless bosses who are "ripping off workers and consumers."
The contrast is revealing. It reflects May's decision to put herself at the center of her party's campaign for re-election, and Corbyn's choice to shun the conventional playbook of center-ground politics and appeal to populist anger at Britain's elites.
On June 8, voters will be asked to choose who they want to lead the U.K. through complex and potentially acrimonious negotiations on leaving the European Union and to shape the country's future beyond Brexit.
Read More: Brexit Britain Leaves Firms Struggling to Find the Right Workers
While May's Conservatives are about 20 points ahead of Corbyn's Labour Party in recent opinion polls, her campaign has been derided for being too tightly controlled, with few unscripted encounters with ordinary members of the public. Critics have described her performances as stilted and robotic.
In his first campaign appearance, May's financier husband offered viewers a different insight into the woman running Britain, in what Tories hoped would bring a rigidly businesslike politician to life.
He said May first told him she wanted to become prime minister more than seven years ago, before the Tories won power under David Cameron's leadership in 2010.
For her part, May said that while the couple live in the apartment above the prime minister's official residence in Downing Street, they like to go "home" for the weekends, where she keeps a large collection of cookery books.
"Theresa's a very good cook indeed actually," said Philip May, adding that while there isn't a downside to being the prime minister's husband, "if you're the kind of man who expects his tea to be on the table at six o'clock every evening, you could be a little bit disappointed."
Read more: Corbyn Pledges to Raise U.K. Corporation Tax to Fund Schools
About 200 miles north of Downing Street, Corbyn was introduced by a soap opera actress as the man who "gives a toss."

"I say to the tax cheats, the rip-off bosses and the greedy bankers: enough is enough," Corbyn told an audience of party activists in Trafford.
At a later Corbyn speech in nearby Salford, retired teacher Paul Gerrard said Corbyn is the Labour leader he'd dreamed of, but had long ago given up hope of ever seeing. "He's opened up a debate in this country for the first time in 30 years. The angrier he sounds, the firmer he is on socialist policies, the more likely he is to win the election."
Since 1983, when the party suffered a crushing defeat at the hands of Margaret Thatcher, Labour has avoided talk of socialism, seeking to win voters back from the Conservatives by offering moderation. 
The party now plans to hike the corporation tax by more than a third over the next three years, and "reverse the Conservatives' tax giveaways to big business."
Not everyone was impressed. On the edge of a crowd in Salford a heckler could be heard shouting "Unelectable! He's forgotten about the white working class."
It's voters like this that May is hoping to attract, with her promise to take on the EU in Brexit negotiations. The signs are she's succeeding. 
Even Maurice Glasman, once a key adviser to Corbyn's predecessor Ed Miliband, has held talks with May's chief-of-staff Nick Timothy in her Downing Street offices, the Financial Times reported.
Before it's here, it's on the Bloomberg Terminal.
LEARN MORE