Senate GOP Plans Secret Health Debate That May Take Months
By and
'Sometimes it's best to just put it on the floor,' Hatch says

House's secretive approach was criticized by some GOP senators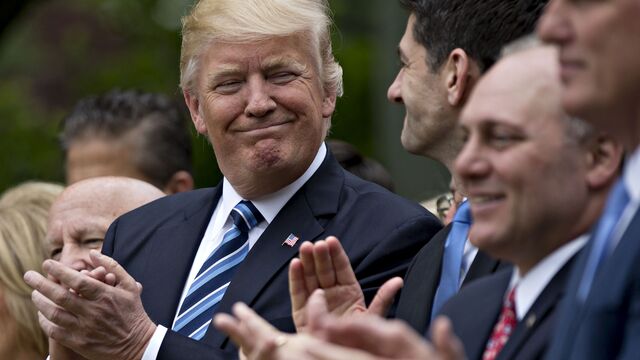 Senate Republican leaders are starting what's shaping up to be a secretive process to write their version of an Obamacare overhaul -- even after some GOP senators complained that the House devised sweeping health-care legislation behind closed doors.
Senate Majority Leader Mitch McConnell of Kentucky held a private meeting Tuesday of an all-male working group of GOP senators who will help shape the chamber's own version of an Affordable Care Act replacement. Among other changes, they'll probably curb the House bill's deep cuts to Medicaid and bolster protections for insurance customers who are older, poor or have pre-existing health conditions.
There's already talk of sending the new measure directly to a vote in the full Senate without committee hearings -- if leaders can gather the 51 Republican votes needed to muscle it through.
"Sometimes it's best to just put it on the floor," Senate Finance Committee Chairman Orrin Hatch of Utah, who will decide later whether to involve his panel or hold public hearings, said before the meeting. He said Republican Shelley Moore Capito of West Virginia attended part of the meeting and that women aren't being cut out.
"They're not excluded. They can come any time they want to as far as I'm concerned," Hatch said. He said he had "no problem" with women being added to the core group.

Senator Lamar Alexander of Tennessee, chairman of the Senate health committee, insisted his panel already has held hearings about Obamacare's limitations. The Senate needs to move quickly, he told reporters.
"We have a sense of urgency about the millions of Americans in the individual market, which is about 6 percent of Americans, many of whom are seeing their premiums go through the roof," Alexander said.
No Public Hearings

Some Senate Republicans have complained that even though House Republicans considered their bill in open committee meetings, there were no public hearings to hear outside views and only a few House members were allowed to offer amendments before the chamber passed the bill last week.
"A bill -- finalized yesterday, has not been scored, amendments not allowed, and 3 hours final debate -- should be viewed with caution," GOP Senator Lindsey Graham of South Carolina wrote on Twitter last week.
"Everybody ought to be at the table," Senator Jerry Moran, a Kansas Republican, was quoted as saying by the Kansas City Star last week. "I want the committees of jurisdiction to hold hearings, bring the experts who know about health care from across the country, bring citizens to tell us their stories. Then I want every senator, all 100 of us, to have the chance to offer amendments, make suggestions, take votes."
The Senate process will give senators a chance to offer dozens of amendments when the bill reaches the floor, but hearings aren't guaranteed. Senate Republicans say they're starting fresh with their own legislation because the House bill can't get enough support to clear the chamber. McConnell said Monday there's no timetable for an agreement.
"This process will not be quick or simple or easy, but it must be done," the majority leader said on the Senate floor.
'Every Dime'

Asked by reporters Tuesday why no women were included in the working group, McConnell said, "The working group that counts is all 52 of us," referring to all Republican members of the Senate. "Nobody's being excluded. Everybody's at the table."
When Hatch came out of Tuesday's meeting, he said he didn't know when the Senate would vote but that lawmakers need to bring health care under control because "the public wants every dime they can be given."
The 13-member Senate working group includes the top four GOP leaders, Hatch, Alexander, Ted Cruz of Texas, Mike Lee of Utah, Rob Portman of Ohio, Tom Cotton of Arkansas, Cory Gardner of Colorado, Pat Toomey of Pennsylvania, and Budget Chairman Mike Enzi of Wyoming. Senator Ron Johnson of Wisconsin said he also would join the group.
The senators met to discuss divisions among Republicans on Medicaid cuts, their first session since the House squeaked its health-care bill through on a 217-213 vote.
Afterward, Cruz said the group agreed to seek a Medicaid package that "puts Medicaid on a long-term fiscally sustainable path" and would give states more flexibility in running the program. He praised the House for passing its version, but said "there is considerable work to be done here in the Senate."
Women's Views
The secretive nature of the Senate talks is drawing some fire from members of both parties. Senator Lisa Murkowski, an Alaska Republican, said she's concerned about the lack of female representation and people with other perspectives. She said she also thinks it's a mistake to leave Democrats outside the door.
"I want to make sure that the input of women is received, I want to make sure that the input of rural America is received," Murkowski said. "I want to hear from people that are from high-cost states like mine. This has got to be a process that represents all of the constituencies."
Senator Susan Collins of Maine said she gave a presentation to all Senate Republicans at a weekly luncheon meeting Tuesday. She said she discussed Maine's high-risk pools for patients with pre-existing conditions and told senators that federal funding for those pools would need about $15 billion annually.
"The House bill does not even come close to that," she said.
All 48 members of the Senate Democratic caucus urged McConnell in a letter Tuesday to work on a bipartisan plan that can get 60 votes. That level of support may be needed to enact changes in Obamacare that can't be included in a bill the Senate GOP plans to pass by using a mechanism to avoid a Democratic filibuster.
'Uncertain Path'
"Instead of trying to change the House's 'repeal and replace' legislation, which has an uncertain path to the president's desk, you could instead choose to work with us on a bipartisan health-reform package that can garner 60 votes in the Senate and pass the House with Republican and Democratic votes," the Democrats wrote.
The Senate Republican approach ignores a provision of the annual budget blueprint adopted by Republicans in January. The health committee and the Finance Committee were supposed to write a Senate health bill cutting the deficit by at least $2 billion over the next decade. Instead, Republicans have suggested they are likely to amend the House bill with the Senate's substitute on the floor if they can get enough votes in their party.
Democrats predict they'll never be able to do it.
"To unite the differing wings of the Republican Senate caucus is going to be quite a lift," said Senator Ron Wyden of Oregon, the top Democrat on the finance panel.
Before it's here, it's on the Bloomberg Terminal.
LEARN MORE