Putin Critic Navalny Gets Eye Operation in Spain After Attack
By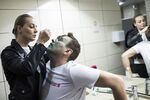 Russian opposition leader Alexey Navalny had an eye operation in Spain to restore sight damaged when an assailant threw a chemical in his face.
A doctor at a clinic in Barcelona that performed the operation told Navalny he will need several months to restore his sight, the politician said on Instagram on Tuesday.
Russian authorities last week issued Navalny with a passport for the first time in five years, allowing him to travel abroad for medical treatment. The attack last month left him with only 15 percent vision in his right eye.
Although probation officials warned him against leaving the country because that would violate the terms of a suspended five-year sentence on embezzlement charges, Navalny went ahead with the trip. An outspoken critic of President Vladimir Putin, he's seeking to run in 2018 presidential elections in a contest that would almost certainly pit him against the Russian leader. But authorities say he's barred from running for office because of the conviction.
Before it's here, it's on the Bloomberg Terminal.
LEARN MORE