markets
Macron Win Gives 'Clarity' for $100 Billion Manager's Europe Bet
By
Sweden's SEB is worried about import taxes in a global context

Says more positive on Europe even with political obstacles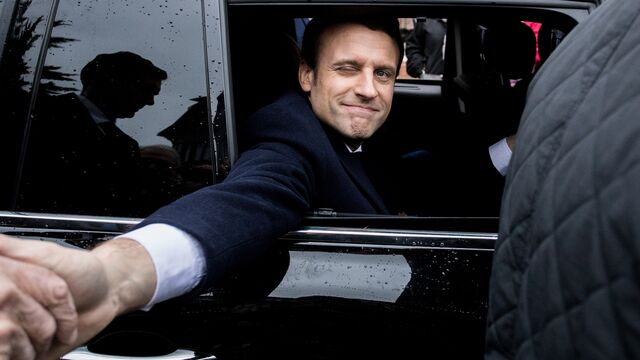 The consensus is coalescing that Europe is the place to be in stocks as political risk subsides.
It's now time to look at company fundamentals to pick stocks and in this case Europe will be the winner after Emmanuel Macron's victory in France's presidential election offered "more clarity", according to Peter Branner, who oversees $100 billion as global head of SEB Investment Management.  
"We're more positive to Europe, especially in a global context," Branner said in a phone interview on Monday. "There are, of course, important political things going on but most of the market movements longer term are described by how the companies are doing and not the political obstacles like Brexit."
With defeats of anti-euro forces in both the Netherlands and France, the European project looks on safer footing even as the U.K. negotiates its exit. European companies have reported earnings growth for the first quarter, propelling the STOXX Europe 600 Index to a 9.5 percent gain so far this year.

Branner, who oversees 100 billion euro ($109 billion), still sees value in equities longer term but the rally may slow. He oversees 20 investment teams, many of them doing systematic and quantitative based portfolio management and also tapping into artificial intelligence and "big data" to help with investments.
"We haven't let any robot loose yet," he said. "So far it's to help our portfolio managers."
The global equity fund, SEB Dynamisk Aktiefond, has returned 7.8 percent year to date.
"In a zero yielding environment the equity rally has been pronounced for a substantial number of years," he said. "And I see a lot of advisers saying that we're maybe hitting a bump sooner or later, which is probably right. The question is always when."
Big Worry
While rates will eventually start to rise it doesn't necessarily need to be a "bad sign" for stocks as long as central banks handle unwinding the massive stimulus with care, he said.
But what worries Branner most is on the other side of the Atlantic Ocean. Protectionist trade policies from U.S. President Donald Trump could derail economic growth, according to the 53-year-old.
"The potential of introducing import taxes and everything that is related to that will challenge global trade, that is one area where I'm particularly worried in a global context," he said. "That is of course a cornerstone of global growth. That is my big worry currently."
Before it's here, it's on the Bloomberg Terminal.
LEARN MORE