business
Macron Supporter LVMH Still Hiring in France as Others Cut Jobs
By
Vuitton owner added 760 domestic production workers last year

LVMH, Hermes rely on French sites as carmakers scale back
As President-elect Emmanuel Macron confronts France's stubbornly high unemployment, he can look to a luxury-goods sector that cheered his victory as one industry that's creating jobs.
LVMH, the maker of Louis Vuitton luggage, Chaumet jewelry and Hennessy cognac, increased its payroll in France by about 4,000 last year. With appliance makers and tire factories moving output abroad, the company even added 760 manufacturing and production jobs domestically, human-resources director Chantal Gaemperle said.
"We're hiring throughout the hierarchy and in all areas of the business," she said in an interview. "We're adding jobs for artisans and people working in factories, including here in France."
Making $5,000 suitcases and $200 cognac won't compensate for a decline in other manufacturing sectors that has wiped out jobs and fueled support for Macron's defeated populist opponent Marine Le Pen. The number of jobs in manufacturing has dropped to about 3 million now from just under 4 million 15 years ago, according to the GFI industrial trade association. 
Arnault Endorsement
Hiring by luxury-goods companies does show, however, that domestic production still makes sense in certain less price-sensitive industries where customers demand French provenance. LVMH's Chief Executive Officer Bernard Arnault, the richest man in France, endorsed Macron, saying Le Pen's economic program threatened French exports. Louis Vuitton dressed the president-elect's wife at campaign rallies.
LVMH isn't the only French luxury company adding jobs at home. Hermes International plans to hire and train 250 additional leather workers in France this year to meet demand for its Kelly and Birkin handbags, CEO Axel Dumas said last month. Overall, Hermes employed 7,881 people domestically in 2016, about 60 percent of its worldwide total.
High wages and constraints on firing have hit low-margin manufacturers particularly hard. As they've shifted production abroad, luxury brands like Vuitton and Hermes have taken on a larger importance for France's fashion and textile industry, which employs 135,000 people in production, according to a 2016 study by the French Institute of Fashion and state statistics agency INSEE.
"The only segment of the French textile and fashion industry that is stable or even expanding is leather goods," said Franck Delpal, economist at the institute. "This is due mainly to two brands that power the sector -- Hermes and Louis Vuitton."
Skills, Training
The challenge of staffing plants and workshops, particularly for skilled crafts like jewelry-making, has prompted luxury groups to search far and wide for recruits.
At the International Festival of Fashion and Photography in the Mediterranean city of Hyeres last month, visitors could participate in free workshops offered by a luxury embroidery house owned by Chanel SA. Since 1985, Chanel has invested in a dozen such specialized outfits in an effort to preserve special skills -- including French milliners and glove makers.
LVMH has held job and training fairs in places as unlikely as Clichy-sous-Bois, a suburb of Paris that was the epicenter of rioting that roiled French cities for two weeks in 2005. The initiative showed off partnerships with trade schools where apprentices can have their tuition fees paid while working for the company.
"We're trying to raise awareness and get people to think about these jobs, which sometimes people don't even know exist," LVMH's Gaemperle said. "We want people here to know that they can apply to Chaumet, or to Vuitton."
Watch Next: What's Next for France After Macron Win?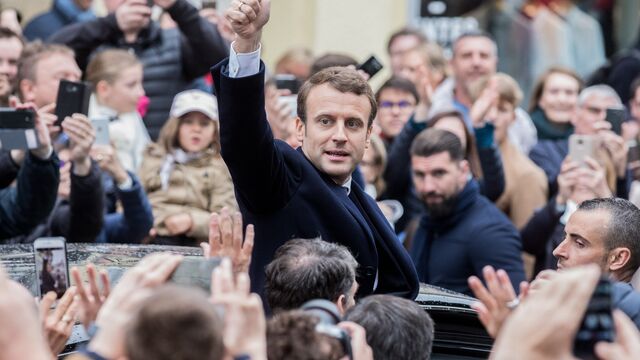 Before it's here, it's on the Bloomberg Terminal.
LEARN MORE