Macron Party Draws Ex-PM Valls as It Changes Name for Next Vote
By , , and
Socialist Party's Valls says he wants to run with Macron

With presidential vote over, attention turns to parliament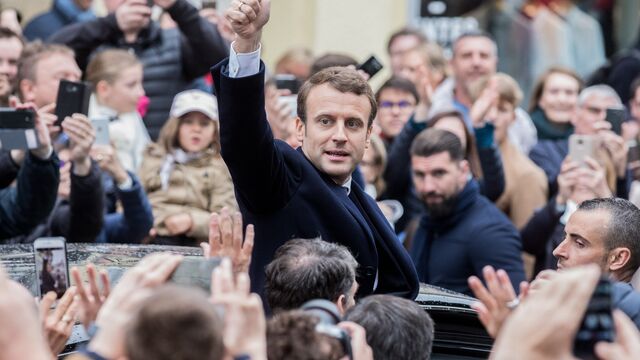 New members are flocking to French president-elect Emmanuel Macron's party as it prepares for the elections to the National Assembly in June -- starting with a change in its name.
Manuel Valls, who was interior and prime minister under President Francois Hollande and lost in the Socialist Party's primary, told RTL that he'd like to run for parliament under Macron's party, saying that "this Socialist Party is dead." Macron's campaign members Christophe Castaner and Benjamin Griveaux said Valls is welcome but would have to go through the regular application process.

"I don't think he was chosen by our selection committee," Griveaux said on Europe 1 radio. "I can tell you that right now we are discovering a lot of new friends."
The En Marche! party will now be called Republique en Marche, or Republic on the Move, party Secretary General Richard Ferrand said at a press conference in Paris on Monday. The group will announce its 577 candidates for the parliamentary seats on Thursday and won't engage in alliances, aside from the one already concluded with Francois Bayrou's MoDem.
Macron, who won the second round of France's presidential contest Sunday with 66 percent of the vote, needs to quickly transform his political movement into a vehicle capable of winning a majority or at least garnering enough seats in parliament to govern or form a coalition. Without that, Macron would be forced to forge alliances, which could mean a watering down of his campaign promises on economic modernization.
"Our objective is to provide the executive with a parliamentary majority," Ferrand said.
The parliamentary elections are scheduled for June 11 and 18. The National Assembly in France has full powers to pass laws and approve the prime minister, and France's two main parties, which for the first time ever were both absent from the second round of the presidential election, are seeking to use the vote to bounce back.

For more politics coverage, subscribe to the Bloomberg Politics Balance of Power newsletter
Although every recent French presidential election has been followed by the winner's party going on to take control of parliament, the outcome this time around has been made murky by Macron's lack of an established base.
Macron, whose political movement was created just a year ago, is putting together his list of candidates for the legislative elections -- a task he has complicated by pledging absolute gender parity and promising that half his candidates will come from outside political circles.
Candidates include people from France's Republican party and the Socialist Party, Ferrand said. Macron has stepped down as head of the movement now that he's president-elect to be replaced by Catherine Barbaroux, who has a management background in both business and government ministries.
The Socialist Party, whose own candidate for president finished a distant fifth in the first round, is holding a meeting today of all its parliamentary candidates.
Meanwhile, the far right National Front, whose candidate Marine Le Pen lost to Macron in the second round, is considering changing its name to broaden its appeal.
Before it's here, it's on the Bloomberg Terminal.
LEARN MORE