Le Pen's Niece Quits Politics in Blow for National Front Party
by and
Marion Marechal-Le Pen pledges to take time off from politics

Grandfather Jean-Marie Le Pen calls her move a 'desertion'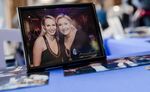 Marine Le Pen's niece and presumed political heiress, Marion Marechal-Le Pen, said Tuesday she's quitting political life, prompting her grandfather and National Front party founder Jean-Marie Le Pen to call her move a "desertion" after the presidential defeat.
Less than 48 hours after her aunt lost her bid to become president, Marechal-Le Pen, a 27-year-old lawmaker, said Tuesday she's retiring from political life "for an experience in civilian life," according to a letter she sent to Vaucluse Matin-Le Dauphiné Libéré newspaper. Marechal-Le Pen won't seek a second term in parliament and is quitting her seat on the Provence-Alpes-Cote d'Azur regional council.
Marechal-Le Pen's decision comes one month before the June parliamentary election, which the National Front is hoping will make it the biggest opposition party to President-elect Emmanuel Macron. The National Front didn't publish a reaction immediately.
"If there isn't a very serious reason for that decision, I consider it to be a desertion," Jean-Marie Le Pen, who co-founded the National Front in 1972, told Le Figaro newspaper. "Marion represented hope for many National Front sympathizers and voters."
Read more on Marion Marechal-Le Pen's rise to French political stardom here.
Marechal-Le Pen, who was pushing for a harder party line than her aunt on immigration and national identity, isn't closing the door on a return to politics.
In her letter, she wrote that "you know my history, you know that the political world has been mine all my life. At 27, it's time to get out of it, for some time." The single mother of one cited personal life for her decision and also called for restoring trust between voters and politicians.
"I am not giving up the political fight for good" she wrote, according to the newspaper.
Before it's here, it's on the Bloomberg Terminal.
LEARN MORE